This weeks COTW was a hard one to decide. There were a few that at different points of the week I was planning to write this post about. In the end I had to go back and go through them all and basically see which one I would have the most to say about. And this wonderful piece of surrealism came out on top.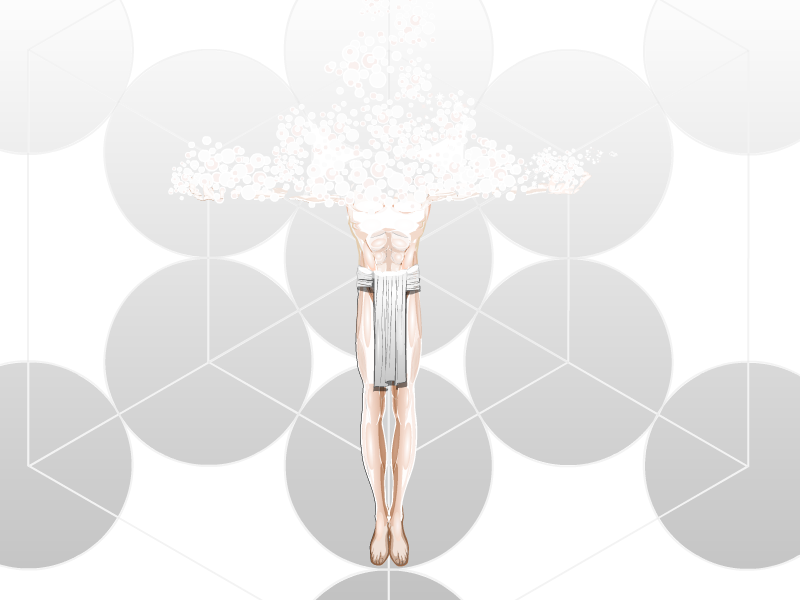 Now, obviously the most striking thing about this piece, is the fact that his head and shoulders have been reduced to bubbles. If you just look at the lowest bubbles, you can see where Rob has masked the hands and arms to the energy. Plus the fact that some of the bubbles are skin coloured, you really do get the impression that this person is actually dissolving.
And then, once again, Rob is being sneaky and testing me on my skills in try to explain how he does these effects. I am of course talking about the white shine he has created on the chest and legs. And I'm kinda at a loss. I at least figured out that the abs come from the really muscular Male-Alternate body and the glow effect on them is the shading circle set to colour 1 as the skin colour and colour 2 as white, but I actually have no idea how he did the chest. Rob, once again I must ask you to explain your methods.
Now, I have literally now just spotted one thing that needs to be changed on this piece before I could truly say its perfect. The feet. They aren't the same colour as the rest of the skin. It's not that noticeable when you first look, what with everything else going on in this picture, but now that I've noticed it, it's really nagging me. But otherwise, I would have to say that this picture is sublime (if you'll excuse the pun).