HeroMachine isn't just about the posts or the applications — it's also about the community of people who read and offer funny, supportive, or thought-provoking comments that contribute to an ongoing discussion, as well as sharing their creations.
If you'd like to comment on a HeroMachine blog entry, I'd really appreciate it if you'd register. You don't have to -- I do allow anonymous comments -- but I like knowing with whom I am speaking. Regardless, whether you post as registered or not, your first comment will automatically be held in moderation until I can read it and approve. If that post is overly spammy or rude or boring, it may be deleted, never to see the light of day.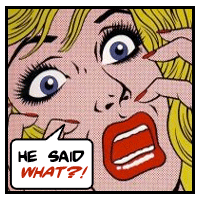 Once your first post is approved, you are free to post again however often you'd like, provided you can act with courtesy and respect for me and your fellow commenters, even if you disagree. I try to keep this a PG-13 sort of place, so while suggestive jokes are common, I want to keep away from anything that would not be allowed on a late-night network talk show.
We may ban you or delete comments without warning or apology for the following reasons:
Bullying and harassment
Not contributing to the topic of the thread
Not positively advancing the discussion
Making threats toward another person
Bigotry
Inappropriate content
Trolling
This site is my house, and I reserve the right to kick out anyone who is making it an unpleasant place to be. No, this is not a violation of your freedom of speech. I am not the U.S. government.
If you feel that a fellow commenter has acted inappropriately, please send us a link to the comment via our contact form.
Additional Info for Commenters
Replying
To reply to a particular comment, click the "Quote" link under that comment. A link back to that comment along with the comment itself in a block quote will automatically be pasted into the reply box.
Making Your Comments Pretty
Spice up your comments with some HTML! These tags make things bold, these give you italics, use these tags to make a link, and
these are handy for when you're quoting someone.
Don't forget to click the "Preview" button before posting to make sure your comment looks the way you want!
Avatars
HeroMachine uses Gravatar.com. If you'd like a picture next to your posts, register on Gravatar using the same email address you use on HeroMachine, and whatever image you upload there will automatically appear here.