A number of new items are now available for your use in HeroMachine 3: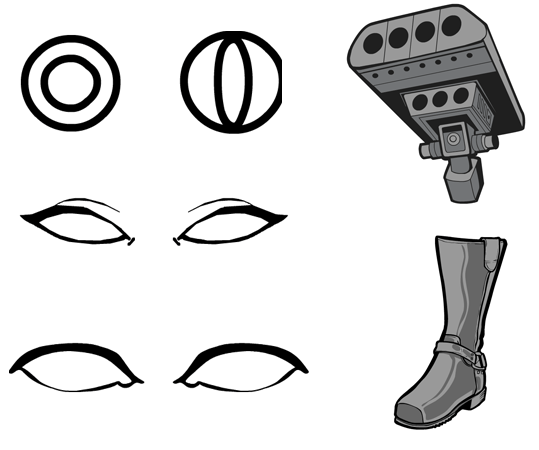 The eyes are courtesy of Me, Myself, and I. They feature the two "hollow eyes" at the bottom and the two eyeballs at the top, one human and one cat-eye. The idea here is that you can turn on "Multiples", add the hollow eyes, add the eyeball of your choice appropriately colored, then by masking the ball to the eye and moving it about, you can create a face that's looking in different directions. A nifty idea!
The missile launcher is courtesy of dblade, and can be found in ShoulderRight/Left-Tech. Those tech items are a bear to draw, and he did a great job on it.
The boot is from me and is for Doomed Pixel's Caption Contest 87 prize, "Biker boots". It's in FootRight-MaleStandard, eventually to be ported to the left side.
Many thanks to MMI and dblade for taking the time to draw these items! I've also got a couple from Scorpidius that I need to get into the app; hopefully those and more will be coming up in the next day or two.
As usual, you may have to clear your browser's cache for these items to show.