I went ahead and posted these twelve new complete bodies in the Body slot called "MaleAlternate" for the HeroMachine 3 Alpha: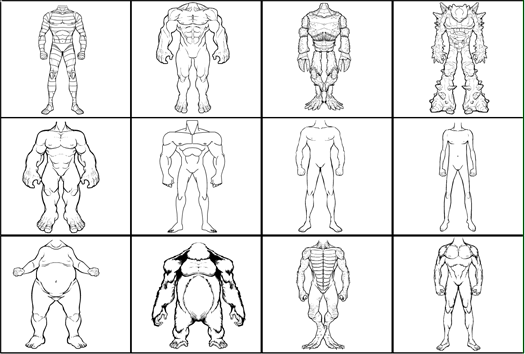 If you are having trouble seeing the preview, they are a banded metal regular guy; big hulking monster muscle guy; lobster guy; rocky earth elemental type; stylized dwarf; the guy who used to be in Male Toons (that set is now gone); regular guy with no interior muscle lines; thin adolescent body; fat bastard; gorilla man; lizard man; and hairy regular guy.
This is an interim release, as I wanted to get your feedback mid-stream as to whether these are worthwhile or not. In the meantime I'll be doing these same twelve without the hands or feet, then breaking out the arms and legs separately as well. Depending on the size of the file, I may then add some additional limbs that aren't part of these twelve bodies at the end (like the merman tail, the ghost tails, etc.), or those may be put into a separate set, I haven't decided for sure yet.