The HeroMachine 3 Alpha now allows you to Save and Load your characters!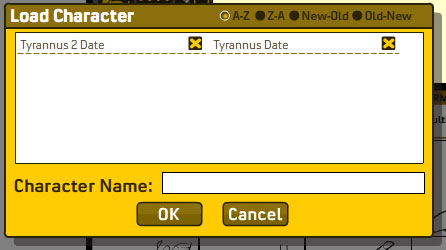 Other things to note about this feature:
Currently characters are stored on your local hard drive only, although in the future you will have the option to "export" or "import" some sort of text string like in HeroMachine 2.x as well.
This is all-new stuff, something I haven't ever done before, so please let me know when and how it breaks on you.
The four radio buttons at the top of the box allow you to sort your saved characters in alpha order normal, alpha order reversed, date order from newest to oldest, and date order from oldest to newest.
When you get more than 12 characters, a scroll bar appears allowing you to scroll up and down. Currently there's no check in place preventing you from scrolling all the label boxes completely off the screen, but if you close and reopen the save/load dialog box, they'll be back in place.
I don't yet have warnings in place for when you delete a character, so be careful.
I also don't yet have a notification in place telling you the character was successfully saved, but it will show up if you re-open the save or load box.
You can't currently overwrite a character with an updated version. You can either name it "[Name] 2" or the same name, then sort it by creation date, and delete the older one. Eventually I'll have a "quick save" and/or an "overwrite" option that will let you quickly save over the top of what you're already doing, but that was going to take too long.
As an added bonus, "Clear All" should now work properly when trying to delete a character with multiple instances of the same item.
Hope you enjoy it! Again, be sure to let me know if/when/how this breaks on you.