(Mashlagoo was kind enough to put together this nifty guide for how to make a portal effect in HeroMachine 3. It's great stuff, I hope you enjoy it! -- Jeff.)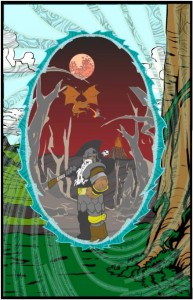 The intended purpose of this guide is to show how multiple backgrounds can be combined to create the illusion of a portal.
I assume the reader has a certain level of familiarity with using HM3. So, I will not be covering much of the process I used to create the background to the left. I will instead only be covering how the effect of the portal was made and what I used to create the border of the portal.