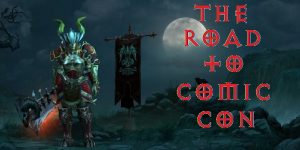 We've got so much to talk about today! And lots of exciting stuff, so let's get right to it!
Con Announcement!
We are going to our first con! May 4th we will be attending the Saskatchewan Entertainment Expo in Regina, Saskatchewan. It's about 3 hours-ish from us, so not too bad, travel-wise. As it's still during school, we will just be doing Saturday this time. But we are all super excited! And the best part? We'll be at our first con on STAR WARS DAY! That being said, we'll be doing our Diablo III group that we were supposed to do at the cancelled con we were supposed to attend in the fall.
So we are full steam ahead on getting our costumes done and up to snuff! Halloween gave me some great insight into my Barbarian armor and what I need to do to get version 2.0 off the ground and make it easier to wear and better fitted.
Also grabbed a couple of new septum rings, one of which I might include with Barbarian 2.0. Guess which one? (It's the spiky one, of course. Unless I can find one with a skull or something)
We even put in an order today for some costume pieces, including coins for Elder Spawn's Treasure Goblin. There aren't too many more things to actually acquire, just a few things for the kid's costumes, like Younger Spawn's boots for Leah. Most of it is just assembly at this point, so we've got a bit of an advantage going forward.  So stay tuned, because there's going to be a lot of updates leading up to May!
Other Costumes
Valkyrie Frigga
Just a quick update here, since these other costumes are taking a bit of a back burner for now. But I got some gorgeous material for lining my cape.  Now to just put the damn thing together!
X-Wing Pilot
I know you're thinking, what is this? Well, a couple years ago, I did an X-Wing pilot costume for Halloween. I loved it (enough that she has a name and backstory!), but there was room for improvement. I happened to dig out my old coveralls that I'd used to do Chell from Portal and what do you know, they fit better than when I bought them! I'd need to redo the life support vest, but it's a great costume and if I can bring it out again I totally will.
Any excuse to bust out the awesome helmet I made!
Housewife Freddie
I found my shirt! Thrift store for the win! Which is where I figured my best bet to find such a thing would be. It's a bit brighter of a pink than the version in the music video, but somehow I don't think Freddie would mind. For a grumpy old goth like me, though, who prefers to wear black or red, this is so bright. Even in the crappy, late-night lighting of these pics. But a bullet bra will really take this shirt up to the next level, because as these pictures prove, a regular bra just isn't going to cut it.
NEWLY ANNOUNCED- Dr. Eva Malcolm!
So, hubby does a genderbent Dr. Sarah Harding from The Lost World: Jurassic Park. And it occurred to me that he could use a companion costume. And so, Dr. Eva Malcolm came into being! And the great thing is, it's the leather jacket I already own and the clothes from Casual Ragnarok Loki! In the order I made today, there's a turquoise ring and necklace, so other than shoes (which I need for Loki anyway), this one is done! Can't wait to have it all together and get a picture of Drs. Eva Malcolm and Samuel Harding together! Won't be at this con, sadly, but as soon as we can!
It's been an exciting couple of days, but there's lots more to come, so stay tuned! Also would like to see Captain Marvel next weekend, if possible. So maybe I'll finally do a review, too!