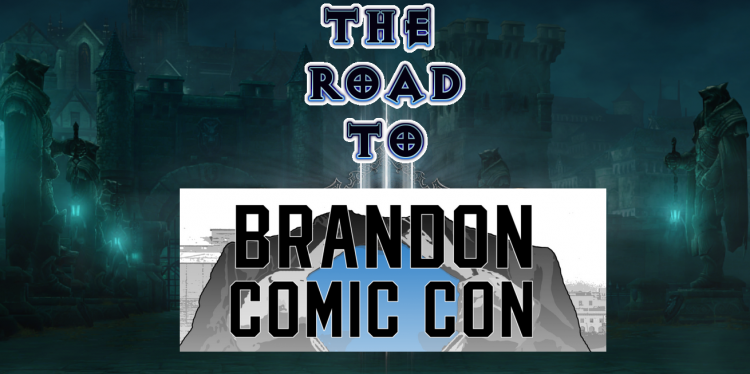 Welcome to Part 3! There's lots to go over this time so let's get right to it! As usual, this will be a pretty image-heavy post. We'll start with updates on the last post and then get into some new stuff!
Pauldrons
In the last segment, I went over my process for my shoulders. Well, after last time we were left with all the pieces primed and ready for paint. So that was my next step. The main pieces were painted with a red metallic Rustoleum (which I hate because it has the worst coverage) and the accent pieces were done with a silver/chrome Rustoleum (which I love because it's the opposite of the red).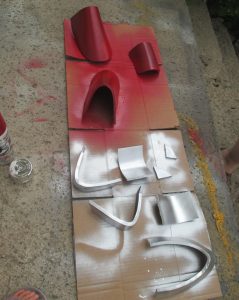 After the pieces were painted I glued them together. I used a LePage heavy-duty contact cement, which worked great except it eats paint so just be aware of that if you use it. So, lesson learned there. It didn't affect the pauldrons themselves and they will need to be weathered anyway, so it's not a problem. So, here they are, all glued and painted. They just need weathering, spikes and faux fur added, and that's about it!

Black Soulstone
Well, our experiment didn't really pan out. I don't even think I have a picture of it. The crystal just didn't grow beyond a small, rounded thing that we can't really use. So, I guess that one's a failure. I've been looking into other options, including more kid-friendly ones. I found this video, and I think I want to give it a try and see if I can make it work. A candy/sugar based crystal would probably be better for a five year-old to carry around anyway.
Wig
You may not be able to tell from the picture I posted, but the Diablo III female Barbarian has long, red hair. I have a dark brown Mohawk. You see where this is going. So I bought a wig off Amazon.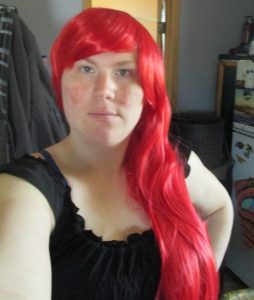 This is the first wig I've bought that's not a cheapy and super-fake looking one from a Halloween store. And it's actually quite nice. It has a good fit, looks good, and it's pretty comfortable to wear. I might look into some options to bring down the brightness a little bit, but it's otherwise good to go.
Sword
My son painted one of the swords for his treasure goblin pack one night while I was working on my axe (which I'll talk about below). I just ordered some supplies so we can really get going on his costume, but he really wanted to paint this one and he was really happy with the results. I am too.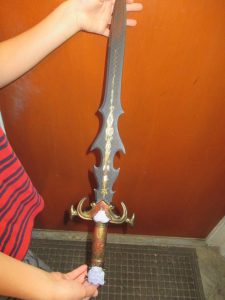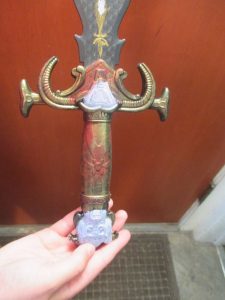 Axe
So this has been my 'main' project for the last couple of nights. I started on my Butcher's Carver axe. As it is a two-hander, I bought a broom handle to make the handle for it. It bent it into shape just using my knee and the outside porch stairs.

Once that was ready I took some material I had and cut it into strips. I don't remember what I bought this stuff for, but I've used it a few times, including last Halloween's Wonder Woman hand wraps.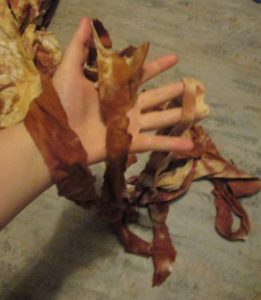 The strips were wound and glued to the broom handle.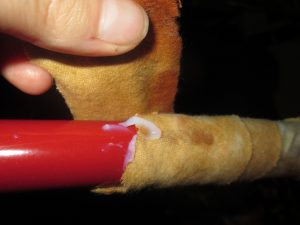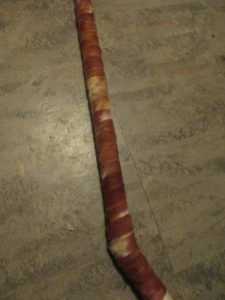 With that done I moved on to the blade, which I cut from a foam mat.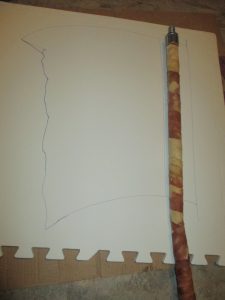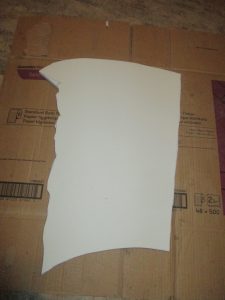 Then some rough and gnarly beveling was done to make the blade edge. I'm so glad this axe is supposed to have a pretty nasty edge.
The next part was the tricky one: attaching blade to handle. Because of course it doesn't attach flush onto the handle, it's held on by those bone spikes. So, after some fiddling, I used some u-shaped metal tent peg-things, bent in to wrap around the handle and then hold the blade in place. This was all then glued in place. I started with the contact cement but eventually just went to hot glue, which seems to be working better. I love my hot glue gun, and my results with the contact cement have honestly been mixed.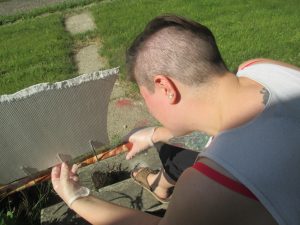 Now attached, I primed and painted. Same black primer, same silver paint. I'm now waiting on some lights before I go any further, but it's really coming along.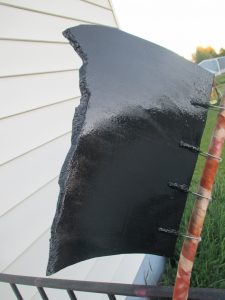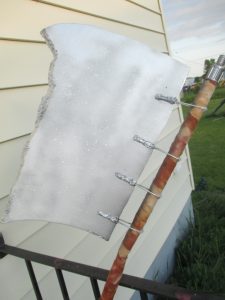 Well, that's how things are going so far. I have lots of stuff on the way and some other pieces already cut out, but haven't really done too much with them yet. So I'll be saving them for another post. But we're chugging along. I know the con isn't until early September, but I'm already feeling the time crunch. So, there'll probably a lot more of these in the coming weeks as production really ramps up. So, until next time!