Last week I asked you to caption the following image: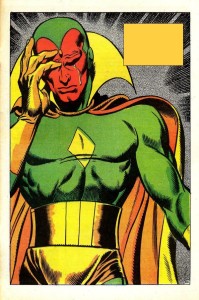 There were many fine entries and these are my top five:
**********
Skybandit:
The Vision can only get called "Mr. Roboto" and "Astro Boy" so many times before it begins to take its emotional toll!
**********
Stevedore:
After hours of interfacing directly with their servers, the Vision still couldn't access heathcare.gov.
**********
Herr D:
. . . . and, realizing his 11th costume redesign wasn't cool EITHER, he began thinking of all the HM3 artists he'd snubbed
**********
Timedrop23:
Vision can't believe he sat through the end credits of The Avengers just to see them all sitting around drinking beer.
**********
CantDraw:
The tightness of his corset was too much for The Vision.
**********
And our winner is ..................................................
Stevedore!