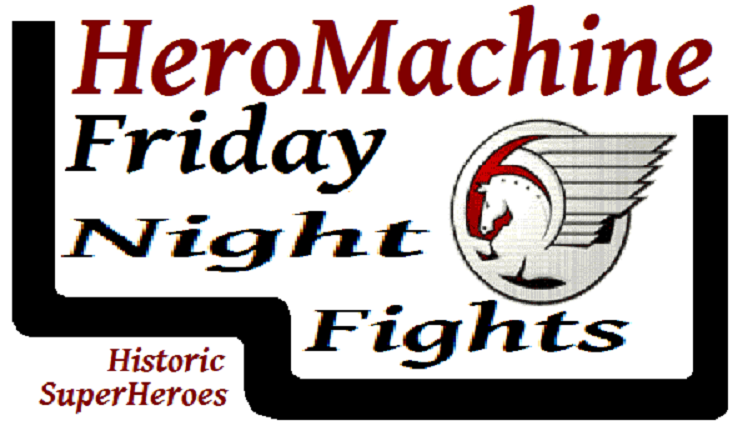 Last Week for my weekly Poll Position post I had asked you to decided the Theme for Friday Night Fights and your decision is in! After a tough back and forth battle between Monsters and Historic Super Beings,  it has been determined that the Theme for the 5th Friday Night Fights by you votes will be .... Historic SuperHeroes ( or villains ).
What that mean is this. I will be providing you with five periods of time and it will be your job to select a TRUE historic figure from that time period and re-image him/her as a SuperHero ( or villain ). You must stay as true to the time period as possible while designing Super Costumes and gear which should provide a true challenge for all you talented HMer's out there. What does a Medieval European Super's custom look like ? Or an Ancient Egyptian Super Villain look like ? Have fun and let those creative  juices flow.
Now Here is How it is going to work: You are to create for me FIVE  pictures one for each of the five categories listed below. The images can be created with any version of HeroMachine you wish, however the image must have been made completely within HeroMachine, no editing with any photo editing software save for basic cropping and the addition of a "Simple" boarder. Once you have these pictures created you are to Name the file in the following manner  Roundnumber-Charactername. So for example if I created  a SuperHero George Washington for round one I would name the file "Round1-George Washington" ( or "RoundOne-George Washington"). Failure to name the files properly will result in disqualification from the contest.
Once you have your pictures created and named properly you are to EMAIL them to me at Kaldath@gmail.com . DO NOT post your entries to the comment section of this post, also DO NOT post your entries for public viewing until AFTER the appropriate round for each image has concluded.  You have one Month for today to create and submit your entries to me with the deadline being 12 Midnight Eastern Time November 25th 2013. You are limited to only ONE SET of entries for this contest, and all entries are final, substitutions will not be allowed so make double certain you have your images the way you want them to be before sending them to me.
The contest will be judged by you the members of this community via rounds of voting. The first round is a qualifying round where the top 16 entrants based on your votes will move on to the true competition and will compete in a bracketed tournament pitting each entrants against each other in head to head polls to determine who moves on to the next round.
The Five categories for this contest are as follows:
Round One: Early America - The Time period from the landing at Plymouth Rock until the US Civil War
Round Two: Medieval Europe - The time periods from roughly about 500 AD to 1500 AD
Round Three: Ancient Egypt - The era when the Pharaohs rules the Nile
Round Four: The Roman Empire - The time from the First Caesar til the collapse of the empire, roughly 27 BC til 476 AD
Round Five: World Wars I & II - Covers the period of time between the beginning of World War I til the end of World War II
If you have any questions about the theme or how to submit you entry please feel free to ask in comments below. Also I would like to take a moment to note that the Heromachine community is fairly world wide with different world views, Historical figures one culture views as a Hero may be viewed differently by another culture so I do not want to see any bashing of people here if one persons interruption of a historical figure does not match your own! Though with that said I DO NOT want to see any Racist, Homophobic, or otherwise Bigoted type entries and will disqualify anything I believe crosses that line.