Now, I will get this out of the way straight away. I'm not saying that the Amalgam crossover between DC and Marvel was a bad idea. I'm saying it was a badly executed idea. The concept was sound. Mix together some of our best loved and most popular heroes in a new universe for a couple of special limited series, great thinking, fine with that. But then you have to go and ruin it by making bad choices for amalgamations or bad costume choices for those that you've done well. The best illustration of this is to look at each level individually.
First up, we have the only example I can really think of where they managed to do the right amalgamation and the right costume: Super-Soldier (Superman & Captain America)
Really, they couldn't have mixed these two guys with anyone else. Both fiercely patriotic, both have been the leaders of and figure heads for their respective universes superheroes. They also managed to keep the costume simple, mostly Captain America in design, just adding the Superman trunks and hair flick whilst using the iconic logo as the shield. Then they go and set his series in WW2, where he can interact with amalgamations of both companies best Golden Age heroes: Human Lantern (Green Lantern & Human Torch), The Whiz (Flash & Whizzer), Aqua-Mariner (Aquaman & Namor) & American Belle (Liberty Belle & Miss America). Well done there, good idea & done to a satisfactory degree.
However, there things go down hill. Jeff has already gone over the problems of Dark Claw's costume here- http://www.heromachine.com/2012/08/15/as-if-you-needed-another-reason-to-hate-the-nineties/. However, I might as well have my say too.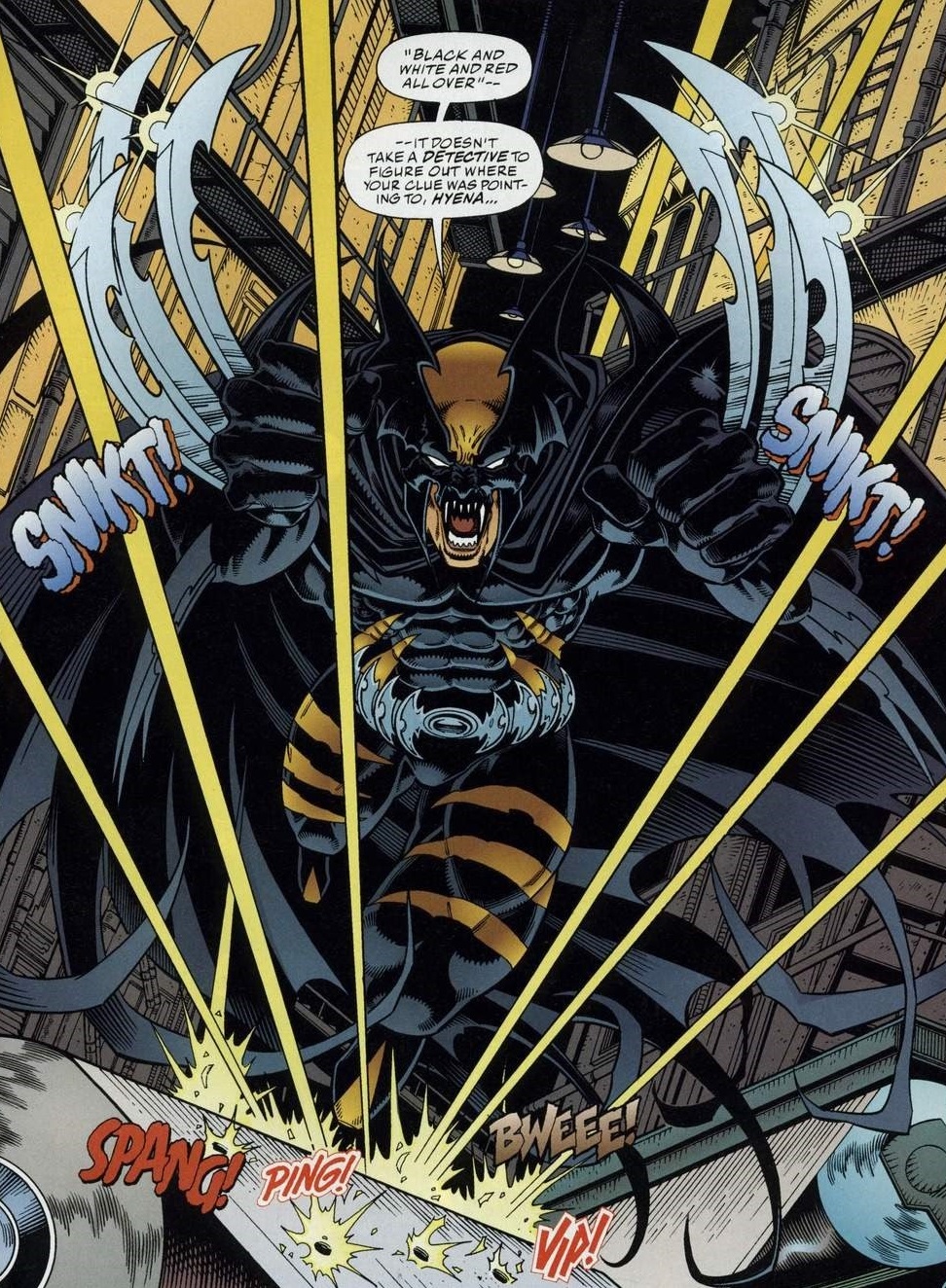 Now, if we take the costume out of the equation, the concept makes sense. Take the two darkest, most popular heroes from either stable and put them together to make one character. Sounds good right. However, then the costume comes riding back into the equation and ruins it. It could have been fairly decent if they'd only practiced some restraint. Unfortunately, this was the 90's, so restraint wasn't in the dictionary.
Finally, we get to the bad idea/ bad execution stage, things that never should have happened. For this, I present the monstrosity that is Speed Demon (Barry Allen's Flash & Ghost Rider).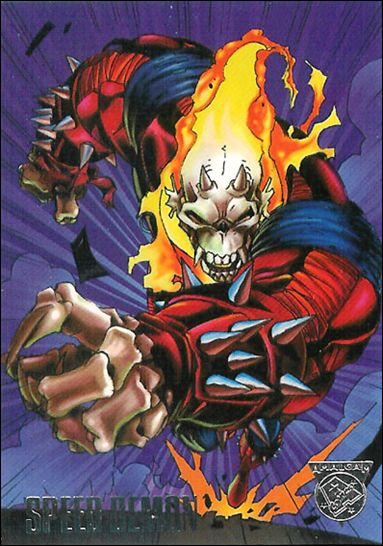 Now I can only assume that, because they'd crossed Impulse with Quicksilver in the first JLX special, they couldn't think of anyone to cross The Flash with, and you can't have that, one of the most popular heroes of the DC universe not getting the Amalgam treatment. Then, I guess that they had that most terrible of things, a meeting. A meeting where they brainstormed ideas, trying to appeal to 'the kids' and they tried to think of speedster names that hadn't yet been used. Then some guy a few seats down the table pipes up "Hey, how about we cross him with Ghost Rider and create Speed Demon. Then we can make him all spiky and covered in flames, 'cause that'll look EXTREME. And the kids love EXTREME." And then because no-one else could think of a better (or more probably worse) idea, they went with it and we ended up with this and all I can say is that it needs to be killed, if not with fire then certainly with water.
My last problem with Amalgam Comics was the sheer laziness of the naming policy. Here are some of my favourites: Dr. Strangefate (Doctor's Fate and Strange plus Professor X, why not call him Professor Stephan Fate, then you get all three in there without resorting to "just jam the names together and that'll do), Angelhawk (Hawkman and Angel), Iron Lantern (Green Lantern and Iron Man), Bizarnage (Bizarro and Carnage), The Challengers Of Fantastic (Challengers of the Unknown and The Fantastic Four, just adding a 'the' could have saved that one) and best of all, Shatterstarfire (Starfire and Shatterstar, I mean WTF). Seriously, did they get a three year old to do those, because anyone above that age would be ashamed to have done so.