This week you need to design the main character of your very own Horror Movie. Scare us with the scariest character out there. You have to make us want to go out and get a loan so we can see the movie.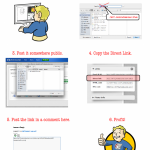 How to have you character disqualified:
#1-Not naming the file correctly. Have your name first and then your character's name (just like the picture included shows), in the file's name.
#2-Unable to right click and save. If the site you have your character on will not allow me to right click and save your character, I will not enter it in the contest.
Please follow these rules there are to many wonderful characters that may lose out.