Many thanks for the funny entries for Caption Challenge 132! You were tasked with coming up with the best replacement dialog for this panel: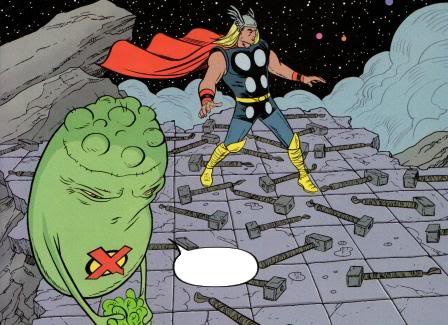 And I've picked out my favorites below:
Gero: I think the acid is starting to kick in…
Big Mac: They all tenderize meat Thor, just pick one.
Rick S.: HOW YA LIKE THEM APPLES!!!!…AND BY APPLES, I MEAN HAMMERS!!
Bad Muthabox: "Worst juggling act ever."
Dan Gonzalez: Even Loki's booger can outwit Thor!
thejay: Boy, when he said "it's thor's day, let's get hammered" he wasn't kidding.
Bael: Stop. Hammer time.
Onikagenoken: "UUUUGGG, we've been at this store for hours. All the hammers look good on you, just pick one please."
The Atomic Punk: Hammer? How about helping me find my legs?!?
Skybandit: Asgardian chess is confusing!
I think my personal top entry out of those is Dan Gonzalez', just because I now want to name something in my life "Loki's Booger". Band, car, dog, anything, really.
Thanks again for entering, everyone!