Many thanks to everyone who entered our last Caption Challenge, which tasked you with writing the best headline for this comics panel: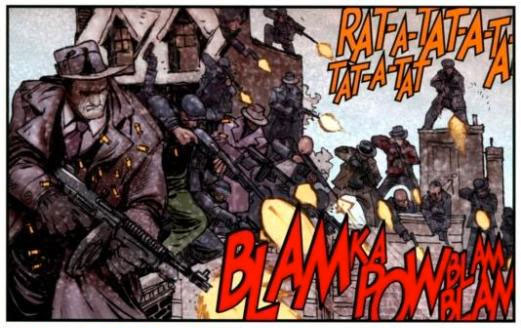 Here are the ones that I personally found the funniest:
Mark: When a mob boss tells you to get off his lawn, you listen.
fuzztone: You gotta mouse? We gotta solution.
ProwlerKnight: They should've bought some girl scout cookies
Mark: No child will ever be trapped in here again, once we fill this old well with lead.
Jawsabi: This is WAY better than laser-tag!
Twiggy: The New Orleans mob decides to deal with Hurricane Isaac their own way
Jake: Not everyone appreciated the Kenny G concert.
McKnight57: In the mob, a 21 gun salute happens BEFORE the burial.
Herr D: Dick Tracy never found out what happened to "Crawls" McGee.
The Occupant: And I thay it'th Duck Season!
spidercow2012: Don Vito said to clean out the rain gutters, so…
X-stacy: And that's when I found out everybody really was a critic.
And my overall favorite? Fuzztone! The idea of a Mob-run extermination agency tickled my fancy and the line's well written.
Thanks everyone! I'd love to hear about your favorite(s) in the comments, so if you're computer-bound on this holiday (or stuck at the airport like me), chime in.