Here are the Winners of Caption Contest 114! As with the last Character Contest I won't pick an overall winner so no one gets a prize, but all of you are winners in my book. The panel was: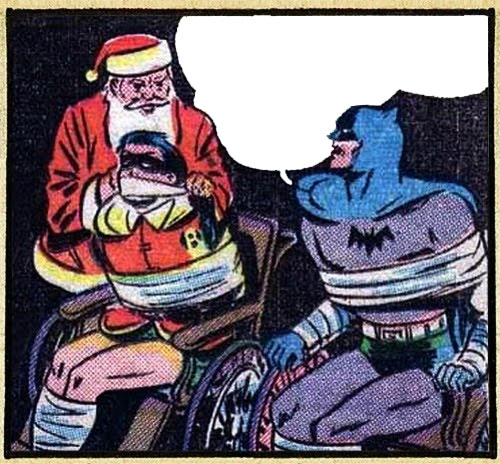 And here are your Winners!
Gero: "Okay, I'm starting to think you're not the real Santa…"
skybandit: …and a new Batarang, and some Bat Ponies, and a Bat choo-choo…
Gabe Puratekuta: "My second greatest fear has come to life!"
TheNate:
1) You fly around the world, you can see everyone, you live in the North Pole – admit it, you're Superman's secret identity!
2) Please don't bring out the gimp!
Abraxas: Oh Santa, this is everything I wished for.
McKnight57: You realize, this puts you on MY naughty list right?
Syntax: Oh stop squirming Robin, you've been tied up by stranger men.
DubbleYoo: Just to be clear… whose Christmas wish is this?
X-stacy: Oh, gosh, this is embarrassing. I got him the exact same thing!
Thanks for playing along, folks!