Wow, we had a lot of very funny entries for Caption Contest 107, thank you all for sharing your humor and wit! Here are some of the entries I thought represented the best replacement dialog for this panel: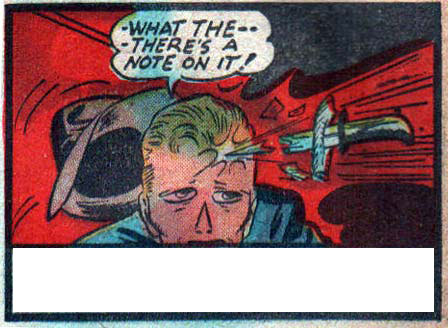 ams: Objects may appear closer than they are!
Panner: Trapped in knife factory, send help!
Trekkie: Look out, there's a knife heading towards you!
Gero: "What am I supposed to write here? Won't he be dead when it hits him?"
McKnight57: Duck!
Frevoli: Iron Skull couldn't see the point of dagger mail… then it hit him.
Frevoli: If undeliverable, please throw at the head of:
Postmaster Dave
231 CherrywoodLane
TopHat: Hey, could you give this knife to Daredevil for me? -Love, Bullseye
Sutter_Kaine: Using his uncanny reflexes, the Iron Skull manages to intercept the knife that would have otherwise missed him by several feet!
TheNate: EDITOR'S NOTE: Before the invention of Sticky Notes, mobsters used Stabby Notes.
TheNate: The mob delivers a sharply written reply.
the creator: 'You have been poked' regards, the Facebook team.
mashlagoo: Dear Friend, I am Prince Abdullah Saud. I have recently acquired money in the amount of $100,000,000.00 USD due to the death of my father. Because of a stipulation in his will, I need your help…
Bael: I was well accustomed to weapons bouncing off my head, but a note? That would have raised my eyebrows, if I had any.
Skybandit: "We have hostages and demand (continued on next knife)"
dblade: "Lucky for Iron Skull, there were a few indisputable truths in the universe: Paper covers Rock, Rock smashes Scissors, and Skull shatters Dagger."
I thought the variety of approaches on this one was great, with some doing an "editor" style aside, others actual dialog from the character, and still others the actual text of the note. Good stuff!
I had a hard time picking a winner, so I ended up falling back on my old stand-by: Which ones made me laugh out loud the first time I read them? And the answer to that was ... Frevoli!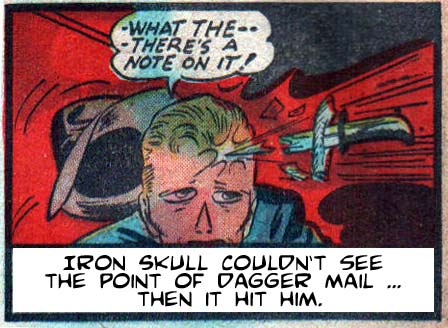 I counted two excellent puns and a cool new concept, "Dagger Mail". I can't wait to get my first letter. Also, ironically Frevoli's prize for his last Caption Contest win, and today is International Talk Like a Pirate Day! That's gotta be some kind of karma.
Anyway, Frevoli, let me know what you'd like for your prize, congratulations to the Finalists above, and thanks to all the others who entered but who I couldn't paste in due to space constraints. That was a fun one!