Known as the Centaur or the Archer to the Greeks, and "The Soldier" by the Babylonians, your challenge for this week is to design a character based on the concepts suggested by the Zodiac sign "Sagittarius". Some of the traits of a Sagittarius are: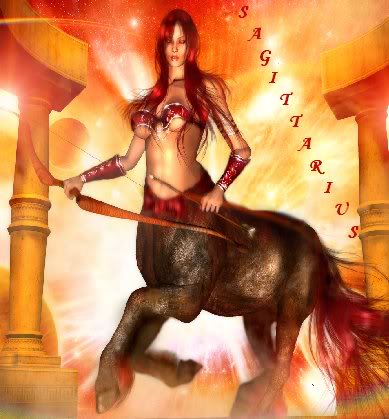 Positive:
Optimistic and freedom-loving
Jovial and good-humored
Honest and straightforward
Intellectual and philosophical
Negative:
Blindly optimistic and careless
Irresponsible and superficial
Tactless and restless
But hey, we're not here to find a date, we're here to create kick-ass characters, right?! Obvious takes would be anything centaur-like, whether with a classic horse or some other beast (or cyborg, whatever), or anything archer-related.
Whoever comes up with the best character will win a) his or her choice of either any item they like to be included in the final HeroMachine 3 version; b) a portrait to be included in the final HeroMachine 3 version, or c) a "sketch of the day" style custom drawing. The rules are fairly simple:
All entries must be in JPG or PNG form (BMPs are too big), posted to a publicly accessible website (like ImageShack, PhotoBucket, the UGO Forums, whatever);
Entries must be made as a comment or comments to this post, containing a link directly to the image and the character name;
The image cannot have been used in any previous HeroMachine character design contest -- we had an "Angels and Demons" contest and a "D&D Character" contest a while back, for instance, and I don't want repeats of stuff you already did for those;
Please name your files as [your name]-[character name].[file extension]. So DiCicatriz, for instance, would save his "Bayou Belle" character image as DiCicatriz-BayouBelle.png.
Please make the link go directly to the image (like this) and not to a hosting jump page (like this). If you see "preview" or "rotate" somewhere in the link you're probably doing it wrong.
All entries must be in by next Monday, when I'll choose a winner, who will receive his or her choice of any item or a portrait to be included in the final HeroMachine 3 program, or a "Sketch of the Week" style black and white illustration.
No limit on entries this week, so knock yourselves out. Just make them good!