Sorry for the late posting, I've been converting Female Fantasy Common items all day and time kind of slipped away from me. But without further ado, I am happy to announce that the winner of Caption Contest 88 is ... Joshua!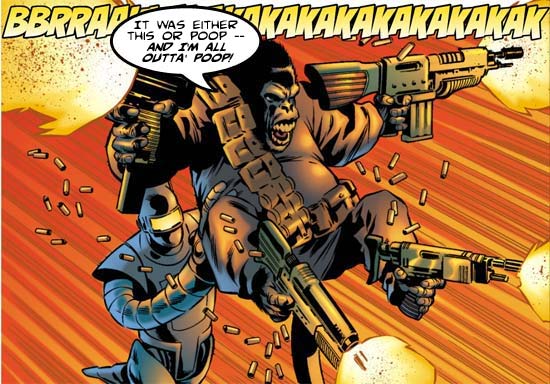 Joshua, let me know what you'd like as your prize and I'll throw it on the list. This was the one that made both John and I laugh right out loud the most, so we had to go with it.
I thought these entries were very funny as well:
joel: "Screw the barrels, Take this Mario!"
Dr. Shrinker: The name is Furious George!
bookaddict1978: Now look what you made me do! Stop Grabbin my Ass!!!!!!!
Runt82: Take this, Dancing With The Stars!
The Atomic Punk: Mine is tapped, but yours is gettin' capped!
TheNate: Watch those pinchers, RoboCop-a-feel!
Jester: THIS is my CRANKY face!
TheNate: Monkey see, monkey shoot!
Jake: See no evil, hear no evil, speak no evil? What about shoot all evil?
Blue Blazer: TAKE OFF THAT DAMN YELLOW HAT!!!!!!
Congratulations to Joshua for the win, and many thanks to not only the Finalists above, but to everyone who entered. Great job!