Congratulations to the winner of Caption Contest 86: Joshua!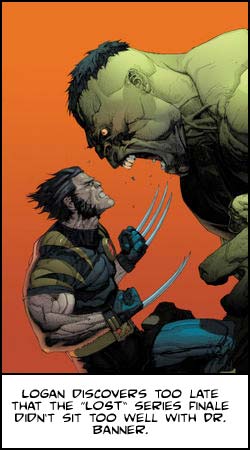 I ultimately went with him as the winner because he had three different entries that were all very good. This one I thought perfectly captured the spirit of most Internet debate.
He was not the only person worth of singling out, however, so forthwith I present your other Honorable Mention Finalist Type People:
Joshua: Hulk: IT'S NOT EASY BEING GREEN!
Joshua: Wolverine: I'm the best at what I do, and what I do isn't pretty– that being a dental hygienist.
Ben Trafford: "Hulk is NOT being just like his mother!"
Jake: Commentary: And so the Veiny Neck contest began!
The Atomic Punk: Hulk: Hulk said "a little off the sides!"
Brambles: Wolverine: Staring contest! GO!
Jake's in particular gave me a good snort, but I thought all of those were very funny. Thanks to everyone who entered, I hope you all enjoyed it!
Joshua, let me know what you'd like for your prize either here, via the Contact Us link, or by direct e-mail (afdstudios at the gmail to the com).