I am happy to give you the winner of Caption Contest 63 AND the choice of either a caricature or any item they want ... Bixlord!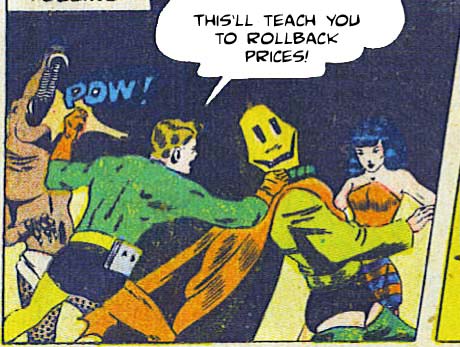 I liked the idea of corporate villains getting socked by well-meaning but perhaps misguided consumer advocates in tights. Congratulations to Bixlord!
I also wanted to highlight the following Honorable Mention entries which I thought were outstanding:
Danny Beaty: Girl, where did you get those bitchin' thigh highs?
johny: lets put a frown on that face!
TopHat: "Quit pushing! You'll get to eat some of the villain after I'm done!"
Bael: Excuse Me! Coming through! Clear the men's room! Taco Hell Emergency!!!
Patrick: It's true … no matter how they look, singers always get the girl!
cavalier: "One way or another, I shall win the Bad Costume Contest!"
Frankie: "Why don't you take this Scooby-Doo weregator ghost and chow down on some hamburgers, Jughead. Veronica's my girl."
Nice job and many thanks to all who entered!