I bet whoever designed those sky-blue UN helmets for their "Peacemakers" was also behind this delightful piece of headgear for the similarly-named "Peacemaker" from DC Comics: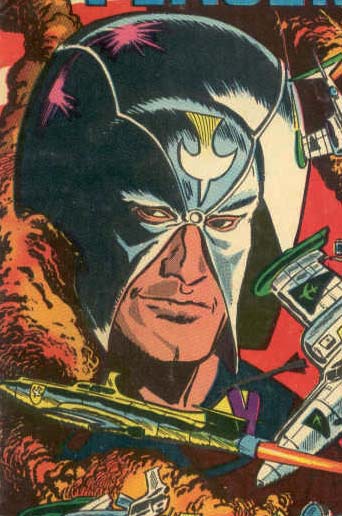 The sideways metal croissant is bad enough, but when you add in the stylized dove and the bedroom eyes, the whole thing devolves into farce. "Come hither, baby, I've got a head for peace and a body for loooooove ... " The helmet got progressively worse, as you can see from this full-body shot: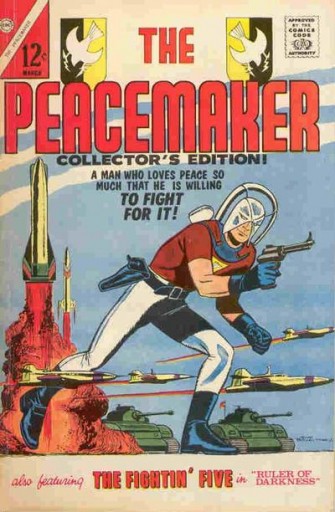 I wonder if maybe the croissant waxes and wanes in accordance with how peaceful he's feeling. Like, when he's at home watching "The Bachelor" sipping on some Courvoisier it's all small and limp, but when (as on this cover) he's gripping a hard-barreled revolver, charging down a runway intent on blowing the crap out of some bad guys, it's all puffed up and angry.
We're still talking about his helmet, right? Right. Good.
Later, DC Comics bought the rights to the character and "updated" him so he'd be more modern which, as we all know, involves leather thigh boots and hand grenades and a mask with no nose hole: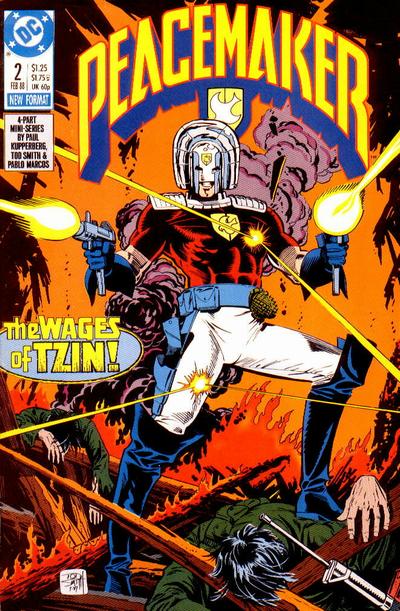 Because nothing says "Peace" like a lovingly delivered hand grenade by a man with a variable metal helmet and leather thigh boots who can't breathe, because that's a dove on his helment y'all, and doves mean love. You can look that stuff up.