For the second time in two weeks (these things do seem to go in spurts), the winner of the weekly HeroMachine Caption Contest is ... Steve!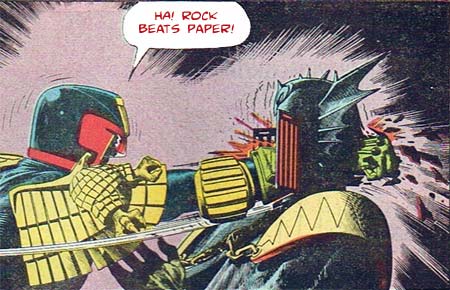 This was a tough one to judge, there were a LOT of really good entries; clearly Cory was right, this was a very good panel to choose. I pulled out what I thought were the best of the best for Honorable Mentions, but a tip-o-the-hat to everyone who entered:
Ian: Citizen, you have a booger.
Cory: Wonder Twin Powers Activa…oops
Socrates: Can you hear me now
Blue Blazer: My MOTHER made these shoulder pads!
Rick: Got yer nose!
EnderX: "Our testers rated this helmet 0 out of 10."
Steve will win another black and white illustration of whatever he likes (within reason), so congratulations again to him. If you want to win your own professional drawing, Caption Contest 50 is coming up soon, so stay tuned!