The winner of Caption Contest 35 is ... Meg!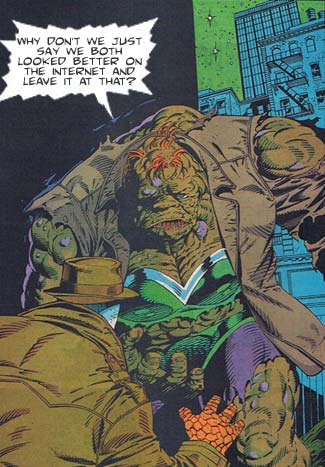 Meg will receive a free custom black and white illustration of whatever he or she likes (within reason). Look for your chance to win your own professional drawing every Tuesday right here at HeroMachine.com!
The other honorable mentions from this week were:
TheNate:
1) Excuse me, are those Bugle Boy Jeans you're wearing?
2) Ding dong! Avon calling!
Rick: Yancy Street Makeover my ass!!!
Meg: Honey? Does this crusty greenish skin make me look fat?
C. Yusuf Mumaz: Those people at Maybelliene… I'll give'em a real challenge!
The Doomed Pixel: "Dad, I think I'm allergic to bees!"
John D: I…want….MIDOL!!!!!!!!
I almost went with Meg's other entry, because I like to use the word "crusty" whenever possible, but I thought maybe the internet one had broader appeal. I also liked the unspoken assumption that Ben Grimm would go out on a blind date wearing a mask, as if to hide his identity without noticing his giant orange rock hands poking out the ends of his coat.
Finally, as I said in the comments, Rick gets bonus points for the old-school Yancy Street Irregulars shout-out.
Nice job everyone, many thanks for your creativity!