The winner of Caption Contest 31 and his very own custom black and white illustration of whatever he likes is ... Whit!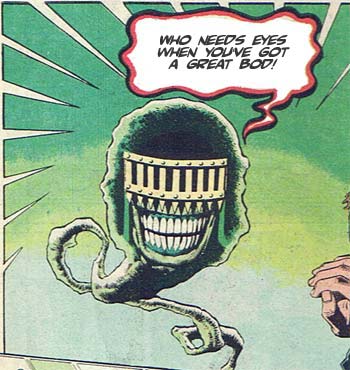 I think what sold me on this one was imagining him saying that in a really smarmy voice like Jim Carrey from "The Mask", and how delightfully un-self-aware the comment is. Well done, Whit!
The other Honorable Mentions from this week are:
Jasper: "Oh boy, oh boy I finally get to play Gordi!
TheNate: Dirty mouth? Clean it with new Orbit Breath of Death chewing gum.
Gregg 1: Does this eye-grate make me look fat?
Gregg 2: I'm Jared and I lost 435 pounds eating at Subway!
Level: Thanks for the lift, not everyone in North Dakota's gunna pick up a hitchhiker wearin' a bucket on his head.
The Icedaemon: "Colgate Rad - guaranteed 100% clean, 100% white teeth. [tiny font] side effects include spontaneous mutation, skin cancer, desire to wear impractical headgear, death, photosynthesis…[/tiny font]"
I actually typed The Icedaemon's up in Photoshop to see how it would look all fonted-out, but it didn't quite click. And I loved Level's blog-reference to that Random Panel the other day, that was funny. And had Jasper not misspelled Geordi LaForge's name, he might just have come away with the win.
Well done all around, thanks everyone!