Kudos to UGO Forums user Isia, who posted an early attempt at using HeroMachine 3 to create a female character, Sirena: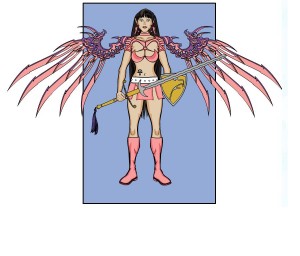 (Click to embiggen)
Many of the elements are there, starting of course with the single female body template in BodyZombies. But the eyes, mouths, noses, and ears are for both genders, and you can (as you see here) make some nice feminine hair styles by combining the existing ones. I have to admire the clever use of Insignia as bra cups here, that's very clever.
With a little ingenuity, you don't have to wait on ol' Jeff to make your character, you can even go girl!
(Edited to add:)
I couldn't resist taking a crack at doing a female character myself after being inspired by Isia. Here's my attempt, The Female Warrior With No Name From The Land of Cold Enough For a Fur Cape But Not Cold Enough To Cover Up The Yummy Bits: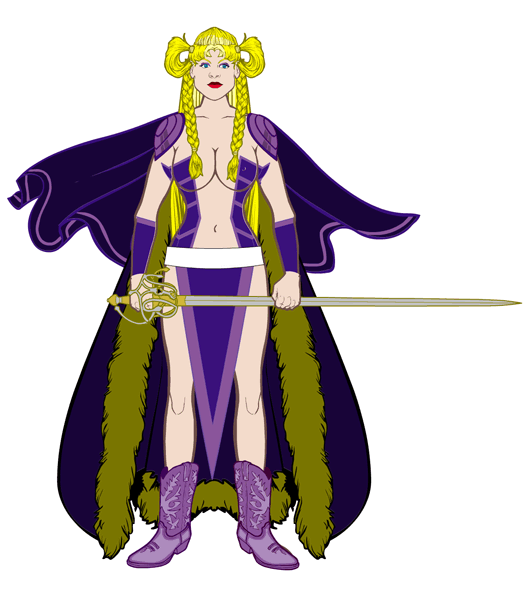 The key trick is multiple masking. For instance, the "gloves" and the pseudo-bustier are all masked to the body. Yes, an item can only serve as a mask to one object at a time, so what you see are actually THREE bodies, all stacked on top of each other, each acting as a mask for one other item -- the right and left square Insignia (rotated to make it look like a glove when masked) and the bustier (which is a Top masked and scaled to look like a bustier).
The tricky bit, which I need to fix on the back end, is that when you add the second Insignia to serve as a mask, it unmasks the first one you put on the stage. I got around it by nudging the second Body over twenty spaces, re-applying the initial glove mask to it, then nudging both it and the Insignia/glove back over. Painful, but do-able.
Everything else had to be scaled and moved to fit, as the boots were in the wrong spot. I chose the last MaleStandard head, which is sort of a Manga-inspired kewpie doll shape and works well for more feminine features. The hair is three main pieces -- the long back, scaled even longer; bangs; and the top part. I added two each of the pony tails and the long braids, flipping one of each. I moved the braids behind the Ears to make them look more 3D.
Like I said, the hard part was getting the gloves and the Top masked with the three stacked bodies. Once that was done the rest was pretty easy. If I was feeling really OCD I'd have created a fourth Body and masked the Belt to it so the top edges didn't stick out, but I was in a hurry.
Finally, Dalls Cowboy Cheerleader boots FTW. Yee-haw!