Our great guest judge Amber Love of "Amber's Fashion Tips for Superheroes" has chosen a winner for Caption Contest 53! The person who will get to choose either a custom black and white illustration of whatever they like (within reason) OR an outfit/object to be included in HeroMachine 3 is ... Steve! Again. Who I already owe TWO illustrations to.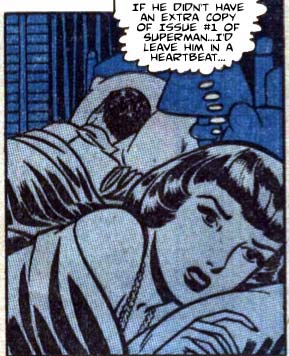 Amber's other placements were:
James, 2nd Place - 1. This alternate universe where Obama won really sucks…oh wait…thats right…he DID win…shit..
Collex, 3rd Place - 4. Next time, I'm using the red kryptonite. The blue one really sucks.
Ian, 4th Place - 1. "I shouldn't have had that second bean and spinach burrito."
Halloween Jack, 5th Place - 10. Well, I suppose this passes the time til Heromachine 3 is finished.
And her Honorable Mentions:
Danny Beaty, 8. Why is Amber Love's lipstick on my husband's shirt collar?
Cory, 1. I cant wait to see Amber's new fashion tips…
Collex, 5. Hmmm. I wonder if he would be more excited if I had a cool Starfire costume.
Congratulations to Steve and to our other "five star" entries. Keep your eye out for the next HeroMachine Caption Contest, coming soon to a blog near you!
And finally, many thanks to Amber Love for being our excellent guest judge this week. Be sure to keep track of her super-hero fashion blog for all the latest and greatest on being super sartorial.