Well, here we are. Our last list was the Best Superhero Movies, so now we dive to the other end of the scale. And I have to say this, I'm very surprised at some of the nominations oyu guys made/ didn't make. We didn't see nominations for either of the original Fantastic Four movies (the ones with Jessica Alba) or either of Nicholas Cage's Ghost Rider movies (which probably wouldn't have made the list but I'm surprised nobody even nominated them) nor Blade Trinity (which had Ryan Reynolds in it and had such a troubled production that the lead actor had a body double do all of the shots where his face wasn't explictly required). But instead we got the 2004 Spider-Man movie (by which we're assuming Spider-Man 2, which was awesome) and Captain Marvel (which will not be making the list, sorry, I cannot justify it being on the list when none of the aforementioned films weren't even nominated, nor can I justify it being any higher than any number of movies that are on the list) were nominated. But anyway, admin out of the way, let's see what did make the list shall we:
10. Hancock (2008)
And so we kick off with our only film not to have its basis in the comics of DC or Marvel, even if it does steal liberally from Hawkman/ Hawkgirl's post-Zero Hour backstory (though why they would choose to steal from that over-complicated, convoluted mess is beyond me). So, yeah, Hancock. It was in development hell for quite literally a decade going through approximately a butt tonne of directors and had to be given the hatchet job not once but twice to avoid an R-Rating (which would probably have helped the film actually, it does have a pretty strong base). You can really tell this after Hancock goes full superhero, because that's when the film takes a nosedive. It also didn't help that the 3 main characters were in a love triangle despite Charlize Theron having no noticable chemistry with either Will Smith or Jason Bateman. Oh and apparently this film did have a bad guy, which I only just relearnt, he was so forgettable that, well, I forgot all about him. It says something when your film can be best described by it most memorable scene being that of a man shoving another mans head up another mans ass and it not actually being all that funny.
9. Steel (1997)
Yup, it's Shaquille O'Steel. Now, as great of a basketball player Shaq is (apparently, I live in the UK, basketball isn't that much of a thing over here), dude cannot act. Ironicly wooden for a character named after a metal, he probably wasn't helped by the script, which can charitably be described as "bad" and non-charitably described as "[censored because we're trying to keep this PG]". At least the film didn't take itself too seriously (I mean, how could it), but it's one of those films where the creators didn't really seem to actually care about the characters they were using, seeing comics as an embaressment of a source material, hence losing the cape, having completely original characters/ villains (other than the titular character) and removing pretty much all reference to Superman, a character Steel is intrinsically tied to in the comics. Also, why the budget Robocop outfit guys? I get it, you're selling the movie on the novelty of having actually big Shaq in your film, but why you got to dress him like he half-assed his comic-con cosplay?
8. Elektra (2005)
Ugh, do I have too?
Ok, fine....
So, the Ben Affleck Daredevil movie was bad (still, apparently not as bad as Captain Marvel or Spider-Man 2 according to you guys). It pretty much poisoned Affleck to the comics community up until.... well, up until a film we will get to later came around and, um, "salvaged" his reputation by him being the least worst thing about it (which is also a shame because Affleck is one of the least worst things about Daredevil too, alongside Michael Clarke-Duncan who was just great). So, yeah, in their infinate wisdom 20th Century Fox decided that what everyone really needed was a spin-off film without any of the bits that made Daredevil not-as-bad-as-it-could-have-been worthy. So, what did we get? Well, we got Elektra, which I described last time we did a worst movies list as having "dialogue written by someone who didn't know how to dialogue", "action in the loosest sense of the word" and that "everyone hated it". And I think that sums it up nicely.
7. Howard The Duck (1986)
I was, and still am to some extent, very much on the fence about whether or not this should count on this list, seen as it is not a superhero film per-se. It does take its characters from the comics and much of its inspiration for the story (which makes it better than Steel in my eyes, but as we've established, you guys don't seem to agree with me much when it comes to this list), so I guess that counts. Plus Howard is now part of the MCU, so.... Look, it's a comic-book movie ok, let's just leave it at that and get to why people voted for it. It was originally meant to be a cartoon but was made live-action because the studio didn't want to release a cartoon about a talking duck aimed at adult audiences. Oh, and they tonned down Howard to make him more "nice", which really didn't help. And tonally it's a mess. Plus, well, just look at the picture preceeding this paragraph. Yikes.
6. Superman 4: The Quest For Peace (1987)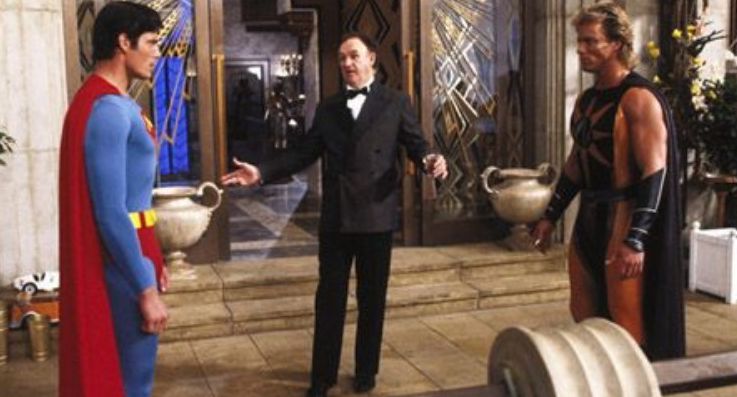 Coming hot off the heels of Howard The Duck, a year after Lucasfilm gave us that creepy looking anamatronic duck, Warner Bros. decided to give Gene Hackman's Lex Luthor (one of the greatest movie villain adaptations) a comedy sidekick. *Sighs*. It didn't help that this film was bad anyway, with terrible special effects (even for the 80's), a bad story, bad acting from the dude who played Nuclear Man and gave us the "classic" moment of seeing Superman rebuild the Great Wall of China with his eyes. But why did they think that giving Lex Luthor a comedy sidekick was a good idea?
5. Batman v Superman: Dawn of Justice (2016)
If ever there was a film that summed up the failure of Warner Bros. attempt to build a DC cinematic universe to rival Marvel's MCU, it would be this one. Though I might have said that this film "salvaged" Ben Affleck because he was the best thing about this film, he's still playing the wrong version of Batman for so early in the franchise (if at all). Henry Cavill could and should have been an amazing Superman, but he was given nothing to make it happen. They cast Jesse Eisenburg as The Riddler really well, too bad the part was actually meant to be Lex Luthor, so Eisenburg was actually a horrendous casting choice. Plus, because for some reason Warner Bros. have a raging hard on for trying to get this story on film (they've apparently tried like 4 times), they rushed Doomsday and the Death Of Superman in only the second film in the series, meaning it has absolutely no impact (it doesn't help that Superman just isn't likable in this nor Man of Steel). Oh and they up and gave their universe to Zack Snyder and his grey filter, a man who has gone on record as saying he doesn't much like superheroes....
Oh yeah and there was that whole Martha thing wasn't there.
4. Green Lantern (2011)
Speaking of the DCEU, let's take a look at their first attempt to start an MCU-esque franchise.
Actually, let's not. I hate this film. Thank God Deadpool killed Ryan Reynolds before this film could get made so now it doesn't exist anymore. If you want to know more about how I feel about this film, go and look at this list I did about 3 years ago.
3. Batman & Robin (1997)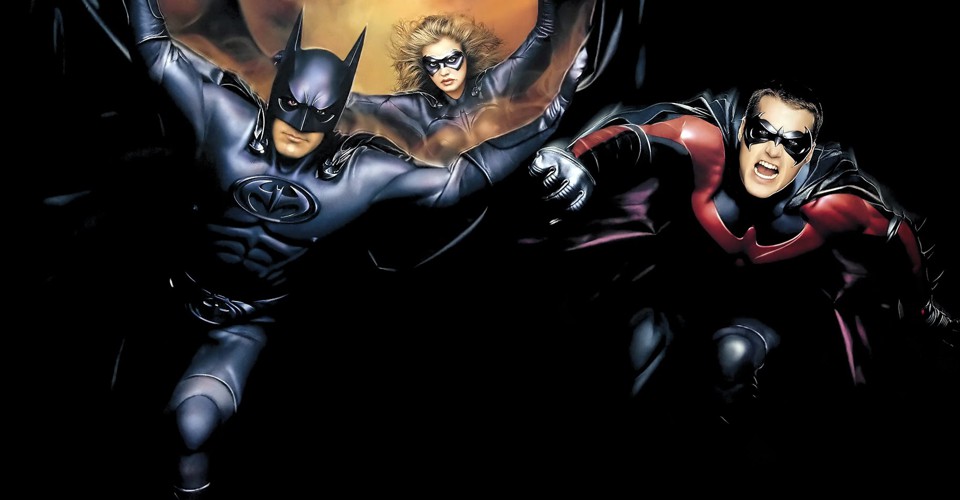 You all know what I'm going to say. "Their costumes actually had nipples on, how stupid is that, who thought that was a good idea, what an idiot, why did the actors even put those costumes on, etc. etc. etc.".
So, with that out of the way. This film killed DC Superhero films for almost a decade before a monumetal effort by Christopher Nolan brought Batman back to the big screen and put him back at the top of most fans greatest superhero films ever list (until very recently). The story was terrible, the acting was so cheesy that it made the 1960's Batman look like Citizen Kane, they brutally butchered Bane only a few years after his classic comic debut and the costumes had nipples on them. The fact that Warner Bros. got rid of Tim Burton only to end up with this within 2 films is tragic.
2. Catwoman (2004)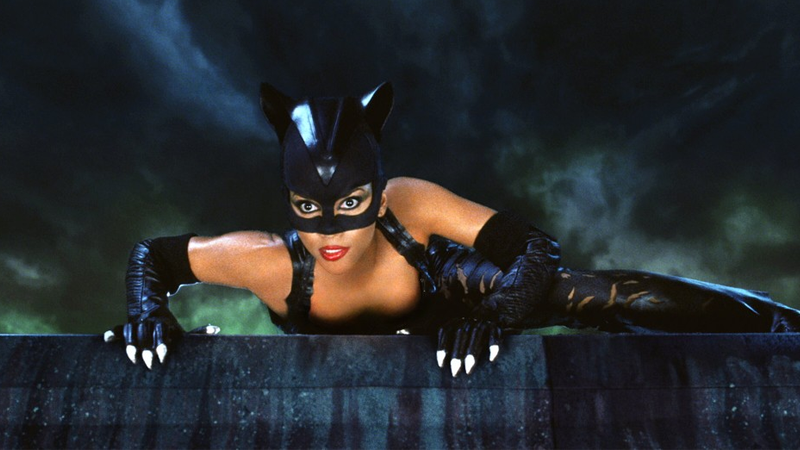 Last time out this was our number one and, in fairness, it only lost out on reclaiming the top spot by one vote. In terms of getting the character absolutely wrong on every level, this has to take not just the cake, but the entire city of Paris with all of its patisseries and boulangeries. I've previously said Ryan Reynolds is superhero movie poison considering that he's been in Blade Trinity, X-Men Origins: Wolverine and Green Lantern, but that is unfair; he's also cameod in Deadpool 2 in which he is absolved of his previous crimes by dying. Halle Berry is just as bad, she's easily the worst thing about the first two X-Men films (well, other than their complete disregard for Scott Summers, but that's besides the point) and she was in this film, which should be at least worth being charged at the Hague for crimes against humanity (but hey, as said before, props for her picking up her Razzie in person). I mean, the writers want the name value of a DC lisence but don't want to use the actual characters that make the lisence so valuable, as in, they're happy to say "Based on the characters created by Bill Finger and Bob Kane" but named the main character Patience Phillips because they didn't want the Batman association that Selina Kyle has (despite making a film about Catwoman, you know, one of Batman's greatest supporting characters/ villains). It lost money, it clean swept all the Razzies in could get and has a 9% rating on Rotten Tomatoes. But still, it couldn't claim top spot this time out. That (dis)honour goes too....
1. Fantastic Four (2015)
I will always love the turn of phrase that the film reviewer from Rolling Stone used to describe this film. He described this film as, and I quote: "The cinematic equivelant of malware". He also called it "worse than worthless" but that first phrase alway stuck with me. I wish I'd come up with that. I'd also like to draw your attention to the fact that IGN's reviewer said that it made the previous two Fantastic Four films seem better in hindsight and those two films sucked. It has the lowest Tomato-metre rating of any Marvel film and killed 20th Century Fox's idea for connecting their two Marvel lisences to create their own cinematic universe. No wonder people were happy when the rights reverted back to Marvel.
So, that's the list, as voted for by you guys (with executive descision making by myself). Feel free to leave opinions in the comments. I also really don't care why you're convinced Captain Marvel is the worst thing since the Black Death, it was never going on the list when you didn't even vote it the worst MCU movie, or even in the top 5 worst MCU movies (none of which got onto this list btw).
Anyway, JR out.