Another quick update and some possible awesome news at the end!
Barbarian 2.0
A super lucky thrift store find has gotten me my first piece of Barbarian upgrade! In the form of pants/leggings. Not only are these ones thicker than the original pair, they're more comfortable and don't feel like they're going to fall down or need to be pulled up! And, they have the fun faux leather front and a faux suede-ish back, which is a neat contrast. Oh, and they're the perfect freakin' color! WHERE HAVE YOU BEEN ALL MY LIFE?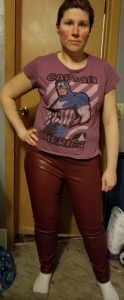 I also have several lists (more on that later) in the works of what needs to be done to fully upgrade Lady Barb from version 1.0 to 2.0 and what the others costumes need for completion, as well as some notes on makeup. Just things I thought of at work. Because when I do planning, I make lists. So many lists.
Valkyrie Frigga
In the same thrift-store trip, I picked up a nice piece of blue cloth for my cloak. It's not the exact color, and it's not the same material, but I really like it.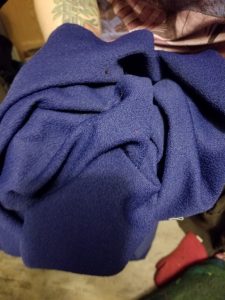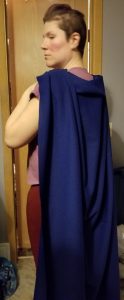 It's such a nice royal blue! Too dark for the movie-accurate cape, but I'm already taking liberties with the cape as it is, so I'm not going to lose sleep. I like this one better, color and texture wise. We are planning a trip into the city this weekend so I'm hoping to hit the fabric shop to get a nice gold for a lining. Oh, and maybe a nose ring I can incorporate into Barbarian 2.0!
The other piece that came in was my Frigga wig. And I gotta tell you, I am SO impressed with it! It's soft and really nice, and it looks amazing! And it's super long and the color is great! Trying to find the right color was really frustrating, but I really, really like what I've got going here.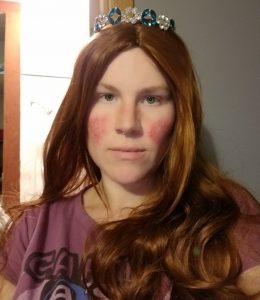 I am really happy with this. I'm going to de-static it and then try some styling but I'm not sure how just yet. Probably braids in some form, but I haven't decided and I think I just need to try some things.
Okay, and the final thing. We're looking at some possible options for attending a con! For real! I don't want to say too much yet because we have to work out vacation time with hubby's work and make sure we can get everything organized. But, it may finally be happening! If we can make it work, expect a LOT more cosplay updates as I ramp up production significantly to get things ready. So fingers crossed!
That's it for now, guys. Work is starting to get back to a more normal pace again so hopefully that means more time for me to actually do stuff and see stuff to write about. So fingers crossed on that, too! Oh, and Captain Marvel will be out soon and we are so going to that!