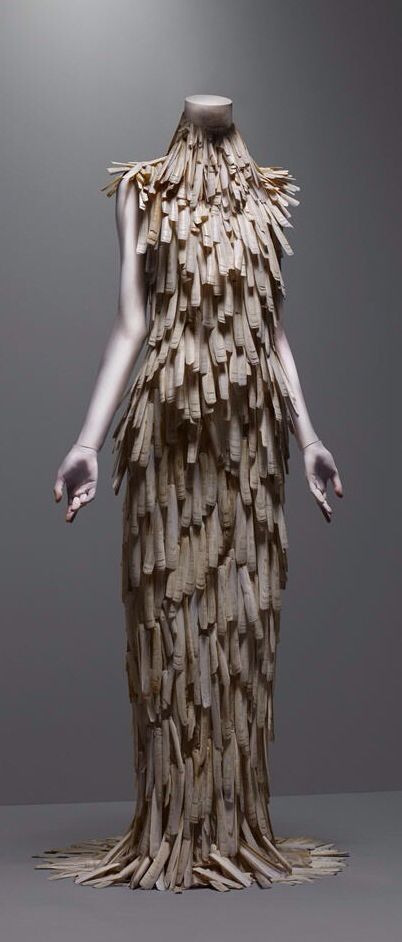 Savage Beauty was an art exhibition held in 2011 at the Metropolitan Museum of Art featuring clothing created by British fashion designer Alexander McQueen, as well as accessories created for his runway shows. The exhibit was extremely popular in New York City and resulted in record attendance for the museum.
A master of the Avant Garde, McQueen played with extreme silhouettes and materials; the dress posted above was made of razor clam shells.
Your challenge this week is to design a character that personifies the idea of Savage Beauty.
This is a link to my McQueen Pinterest page to help inspire you.
https://www.pinterest.com/davidjuby7/mcqueen/
You only get one entry so be creative, and above all else, have fun!
All entries must be in JPG or PNG form (BMPs are too big), posted to a publicly accessible website (like the HeroMachine :,ImageShack, PhotoBucket, or whatever);
Entries must be made as a comment or comments to this post, containing a link directly to the image and the character name;
The image must be new and designed specifically for the Pop Quiz;
No copyrighted characters please – they will be deleted.
Please name your filesas [your name]-[character name].[file extension] before you upload it. So DiCicatriz, for instance, would save his "Bayou Belle" character image as DiCicatriz-BayouBelle.png.
Please make the link go directly to the image(like this) and not to a hosting jump page (like this). See this post on how to get the direct link for most sites.
This contest will close at 6pm Eastern on Monday, July 11th.