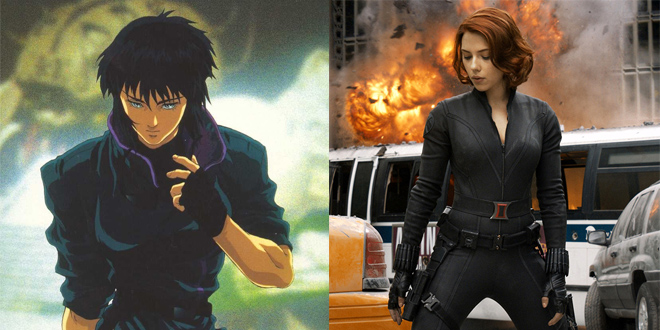 At the time of this writting I have just learned the The Manga and Anime Cyberpunkish hit "Ghost In The Shell" is being adapted into a Live Action Movie, and that Scarlet Johansson has been cast in the lead role as the Major Motoko Kusanagi (Though weather they will keep the name the same is doubtful).  That's right Johansson is going from protraying Avenger Black Widow, to playing the role of a  Japanese Secret Police Agency Cyborg Soldier.
The Movie which has been written by Bill Wheeler, and directed by Rupert Sanders, will be produced by Dreamworks Studios. Ghost in the Shell has been one of those projects that have been pitched for a long time, but with the signing of Johansson to star in it seem to finally gotten some legs beneath it and a green light to be made.
Now back in September of 2013 I did a mini review of the Anime Series "Ghost In The Shell: Stand Alone Complex" which you can read HERE if you are unfamiliar with the Ghost in the shell which is one of my favorite Sci-Fi animes.  As I said I really like the original Ghost in the Shell Movie, and the Stand Alone Complex Series that followed however I not sure I have high hopes for this movie.
Anime Themed live action movies made here in the States have a history of being crap fests in my opinions ( Dragon ball, and Avatar The Last Airbender come to mind). So I would like to ask all you fine anime fans out there. Are you looking forward to this movie ? If so do you think it will be able to do the source material, the Manga, and Anime Justice ?