Last week I asked for your best dialogue for the following image: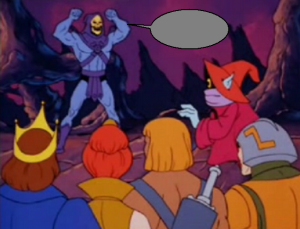 Here are the five entries I thought were the best:
Lime:
"First, I want to thank you all for attending my self-esteem seminar."
*****
punkjay:
We must band together and tell these writers that we will do no more of these stupid cartoons unit WE GET PANTS!
*****
Phatchick: 
And I'd have gotten away with it, if hadn't been for you meddling kids and your freaky whateveritis!
*****
hawk007:
I call 'em thunder and lightning.
*****
Phatchick: 
The heroes ALWAYS win. It's not fair! It's Not Fair!! IT'S NOT FAIR!!!
*****
and your winner is ..................................
punkjay