Last week I asked you to give me your best replacement dialogue for the following image: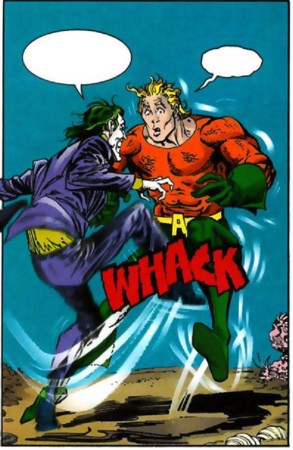 Of all the entries these are my top five:
KatmirStone:
Joker: "Aquabats" are a JOKE, fish-head!"
Aquaman: "Cthu-OOF!!"
SeventhSkull: 
Joker: "Let's see you use fish to defend against THIS!
Aqua-man: "Touche"
Joker: "Nice PLAICE you got here. Kinda small SCALE though."
Aquaman:"All I ever get are fish pun- YOW!"
Herr D:
Joker: Guess my favorite vowel!
Aquaman: Ohhhhhh!
Spitfire101:
Joker: What a joke, I cannot believe you have TWO ongoing titles now.
Aquaman: Neither….can……I.
And the winner is .........................................
Lord_Obsidious