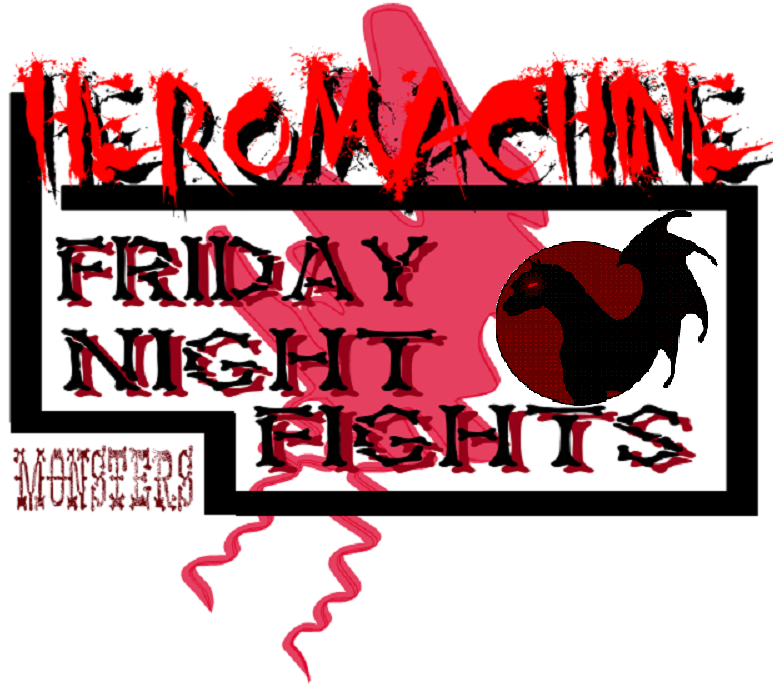 Well folks once again I will be attempting to host a Friday Night Fights Competition. For those who are unaware of what Friday Night Fights are I will explain how it works.
I will present you with 5 Categories of characters in this case 5 different monster types. You will have 3 weeks from today ( that would be February 20th ) at 7 am to complete and email me ( all at one time ) your 5 characters. All five most be sent to me at the same time and I will not accept any entry that is sent individually nor will I allow any substitutions  of any entries once you submit them to me, so be sure your images are the way you want them to be before sending them.  My email address is Kaldath@gmail.com .
Round One: On February 21th I will place all the first round character into a single massive poll for the community to vote on. The 16 top entrants based on the vote count will advanced to the second round. ( Please note that I require a minimum of 20 people entering this contest, if I do not get that number I will cancel the competition )
Your First round entry category is:  Golems / Automotoms
Round Two: The 16 entrants that advance to this round will have their second round characters enter into a standard tournament style contest, where each contestant will be paired off against another contestant  in a total of 8 head to head battles for the communities vote. The 8 contests that win their individual challenges will advance to round 3 while the 8 that fail to win the voters support will be eliminated.
Your second round entry category is: Aquatic Monsters
Round Three:  The 8 winners from round two will have their 3rd round entries into this round once more being paired off against one of the other contestants this time in 4 head to head battles, which again will be decided by community vote.
Your third round entry category is: Anthropomorphic Animals
Round Four (Semi-finials): The four winners from round 3 will advance to this round in two head to head battles to determine which two contestants will advance to the final round.
Your forth round entry category is: Monstrous Alien
Round Five ( Final Round ): This is the last round of the tournament where the final two contestants will face each other in one last head to head battle for the vote. The winner of this round will be the Winner of this edition of Friday Night Fights!
Your fifth round entry category is:  Undead Creatures 
The Rules:
Most of the rules have been covered above, however I will repeat them here along with the a few additional things not already covered.
1 - Your submissions must all be emailed to me at Kaldath@gmail.com no later then 7 am on Thursday February 20th. With a requirement of at least 20 people entering for the contest to get underway.
2 - You most submit all five of your entries in a SINGLE email and I will not accept any substitution for any entry once they have been submitted so make sure you have everything right and the way you want them to be before sending them.
3 - You have to name each image file name to the round you are entering them into. So if you make a vampire for the undead creature round then you will be naming the file Round 5 ( or Round Five )
4 - You will need to identify your Heromachine user name in your email to me so I know which entry belong to which person. Do not put your user name in the file name of your images as I wish to at least Attempt to keep who each picture in the contest belongs to a mystery.
5 - Do NOT post your entries to the forum or to the blog until AFTER your have been eliminated ( or win ) the contest , again in an attempt to keep a little mystery in the contest.
6 - All your entries most be created using any version of HeroMachine that you wish, however they most be 100% Heromachine creations, with no photo editing done to them except for cropping and the addition of a simple boarder if desired.
7 - And lastly; All your entries most conform to the the standard rules of heromachine.com. No copyrighted characters, no nudity or anything worse then a PG-13 rating etc.
~THE PRIZE~
Yes you read that right! Our resident artist and the owner and creator of HeroMachine, the "Bald Avenger" himself Mr. Jeff Hebert has agreed to offer up a prize to the winner of Friday Night Fights - Monsters!
The Winner will have his or her choice of the following:
A Custom illustration drawn by Jeff (  within reason )
OR
A Sketch of the day Style drawing done by Jeff
OR
Here is your chance to have a bit of influence on HeroMachine 3, as the winner can opt to have a custom item of choice added to the Program.
**********
Well there you have it! If you have any questions at all about anything related to Friday Night Fights, the rules, the categories, the prize, what have you, please feel free to ask them in the comments below or send me an email!