This week we're going to look at a classic 'machiner doing an interpretation of one of another classic 'machiner's characters. So, for your viewing pleasure here is AMS's take on Atomic Punk's eponymous signature character.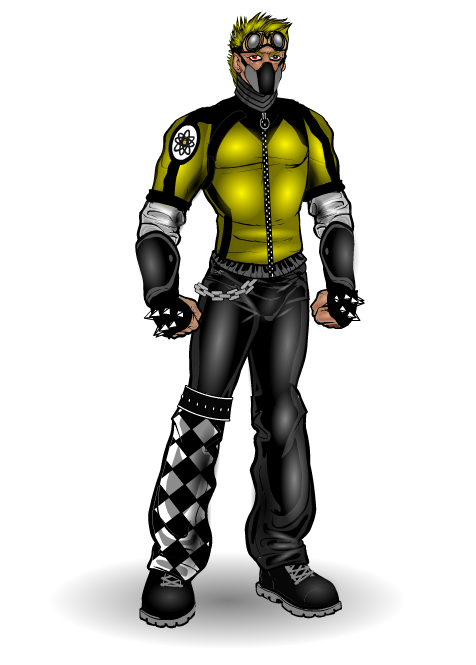 Now, this has got everything you'd expect from an AMS creation. 3/4 position pose (with clothes masked to fit), awesome shading, custom items (see right foot for details), cool face.
However, what really makes this one stand out for me is the way the costume is put together. The colour scheme is a good place to start here. Three colours, the usual and best number for a costume of this sort, with two colours (the yellow and black) being the dominant, whilst the third (white) is used sparingly, to give a distinction between large areas of the two dominant colours. The jacket sleeves are a good example of this, the white giving a border between the mainly yellow jacket and the black gloves.
We also see some very nice design features that really sell the costume design, the biggest and most obvious of which is the checkered leg with the belted knee (which might be my favourite part of the design). But we also have the neckwear jumper neck along the bottom of the jacket, the chain and the stripes on the jacket which all work together to really sell the design. I also like the fact that the zip on the jacket is also checkered, it gives a nice bit of continuity from the jacket to the trousers. It may be subtle but it just adds that little bit extra.