Once again on Character Of The Week, I'm going to feature an image rather than a character (still Character Of The Week sounds better than Image Of The Week). This week we'll look at this image by the brilliant Moognation.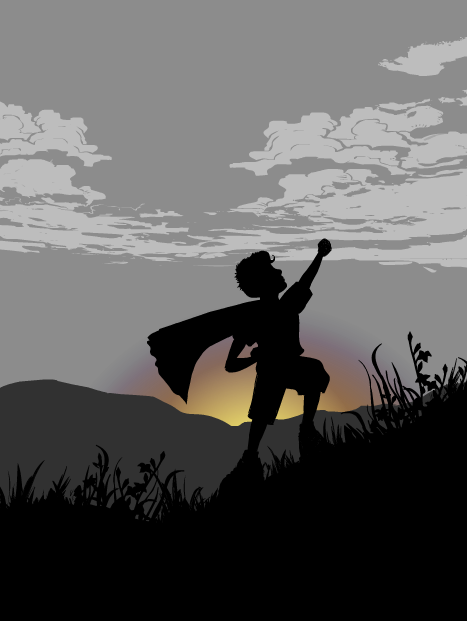 Now, whilst it might be taken almost directly from a series of images that did their rounds on the internet about a year ago, I felt I had to feature it because it's just so awesome. The feeling behind it is tangible, if you haven't ran around with some sort of towel or sheet wrapped around your neck like a cape I think you might be on the wrong site. This picture captures that childhood fantasy perfectly. The pose is right on the money and the proportions are near perfect (which is hard when doing children on heromachine). How Moog did the grass is very inventive, using the bunch of flowers in ItemsRight- Misc, it works very well in silhouette as representing the wild grass on the side of a hill.
The most striking part of this image is the colours. The fact that the majority of the picture is either in greyscale or silhouette makes the yellow, orange and purple of the sunrise stand out even further. And the inclusion of those three colours provides the picture with a feeling of warmth even though the picture is mostly dark and dull greys and black.
Finally, something I wouldn't usually highlight, the title. It sounds somewhat familiar but I can't quite place my finger on what. Either way it fits the picture perfectly, which is hard when titling non-character based pictures, and I can just imagine myself saying that when I used to play superheroes as a kid.
Overall, one of the best silhouettes I've ever seen in heromachine and, Moog, I hope you do more than just the two you've done so far, they are excellent.