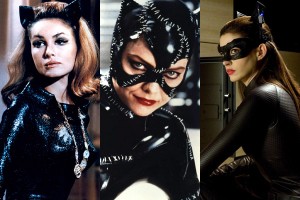 This Kitten Has Claws!
 For my first Costume Blog I wanted to get people's opinions on one of the classic characters in the pantheon of comic book characters.
Catwoman made her debut in the premiere issue of Batman (#1, Spring 1940). As "The Cat," she wore no mask or special outfit. Since that time she has evolved through at least nine lives with a wide variety of looks from her seductive early film noire persona to the Catwoman we know today.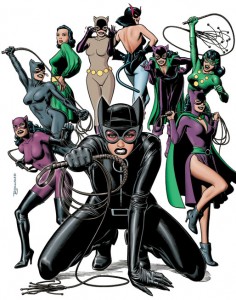 Personally I find it difficult to pick a favourite. In "The Dark Knight Rises" I loved the simplicity of the catsuit and thought the cat ears that flipped down to create goggles was a stroke of genius. Seriously, how else could you fit kitty ears into Chris Nolan's GothamCity?
Michelle Pfeiffer's Catwoman wore a handcrafted catsuit stitched together in a fit of madness. I giggled a little as she pulled a trolley needle from her sewing kit and slipped it onto her finger as the first of her claws, yet I have not worn one since without that image flashing through my mind. I have, however, resisted the urge to buy nine more.
For pure sex (kitten) appeal I'm not sure that Julie Newmar's look could be improved upon which is perhaps why almost 50 years later she is widely regarded as the definitive Catwoman. The cinched waist, stiletto heels and shimmering metallic claws made her look seductive and timeless – and the saxophone underscore didn't hurt!
Some looks were not quite as successful. There was the "Playboy Kitty" look with it's Dracula like collar, the uninspired purple unitard with thigh high black boots, and of course, perhaps the worst of all, Halle Berry's inexplicably bizarre costume in her ill fated turn as Catwoman…which wasn't really Catwoman…but…well…you get the idea.
Got a favourite? Least favourite? Sound off!