Last week I asked you to come up with the best replacment dialog for the following image: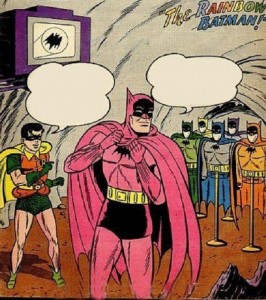 We had a great turn out for this one with some real funny entries, below you will find my Top Five in no particular order.
Robin: I don't know Batman, don't you think that's sending out the wrong message?
Batman: Don't worry chum. It's the only costume I could find that was more ridiculous than the one George Clooney wore.
***************
HammerKnight
Robin- "Talk about Flavor of the Week."
Batman- "You know Catwoman loves to play dress up."
***************
NHA247
Robin: Uhhh Batman, I think you are taking this Skittles sponsorship a little to far….
Batman: Says the boy dressed as a giant reese's peanut butter cup!
***************
Robin: What's with all the new colors, Batman?
Batman: Joker put my costumes in the washer with a colored sock. Now he must pay.
***************
Robin: But aren't you afraid of what people will think?

Batman: Are you dense or something? I'm the goddamn Batman
.
***************
I have a hard time picking the one I liked best, but since there can only be a single overall winner pick I must. So the Winner of the Second Kaldath Caption Contest is:
NHA247