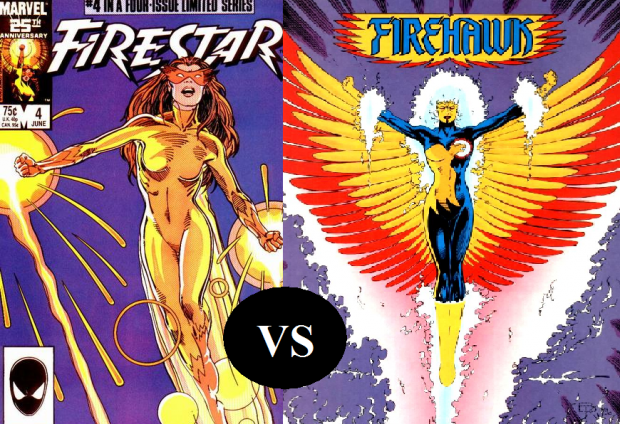 I think this weeks poll is going to be a heated one!!
[polldaddy poll="6788715"]
That's right, this week I pit the microwave wielding Firestar vs the nuclear powered Firehawk. Both ladies though using a different form of radiation but use that power to similar effect. Both are capable of flight, both can throw around  bolts of fiery heat, and both are able to focus heat on a object from a distance by concentration alone.
For those who are not familiar with the characters let me link you to some info on them:
Firestar: http://en.wikipedia.org/wiki/Firestar#Powers_and_abilities
Firehawk: http://dc.wikia.com/wiki/Lorraine_Reilly_(New_Earth)
I find it difficult to select a winner on this one. On first blush one would think Nuclear power would be stronger then Microwave energy however firestar has demonstrated at time what would appear to be great levels of power then her revival in this contest though not on a consistent basis.  I am going to go on my gut and my personal preference  on this one and declare as my choice Firestar as the winner.
Well you have seen my choice on the issue, vote for yours and please leave a comment below telling us why you choose as you did!