Djuby has graciously offered to tackle the pop quizzes from now on and below is his first effort towards that end!!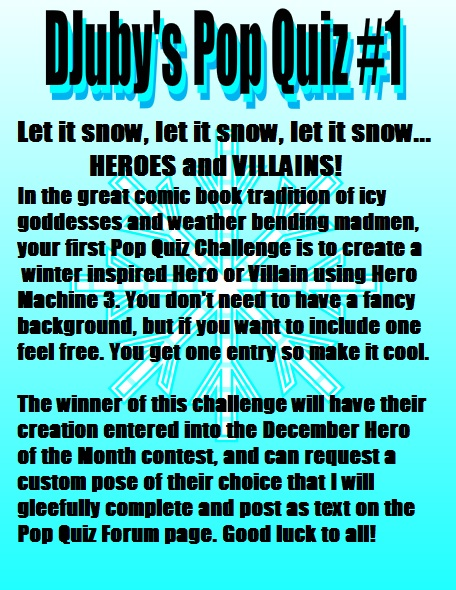 The Rules:
1) You may post ONE ( 1 ) and only one entry to this contest so make it Good!
2) All entries most be posted as a direct link to a public sharing site such as our forums, photobucket, Imagesack, etc. If you post a non-direct link to your image you will be disqualified.
3) All files must be named in the following format  CreatorsName-CharactersName BEFORE they are uploaded to which every site you will be sharing them from.  Example. If I were entering a character named Blizzard into this contest I would save my image with the file name, "Kaldath-Blizzard" then I would upload it to my Heromachine forums Art Gallery thread.
4) All entries should be in either jpg or png format, absolutely NO bmp files!
At the end of the contest Djuby will be announcing the winner on our forum's and I will then repost the results here!