Sometimes a super hero costume is so bad, it leaps off the page and slaps you upside the head with its hairy thighs. OK, ew. But because it's a drawing you can sort of let it slide. As a case in point, I present to you the classic Superman villain, Vartox: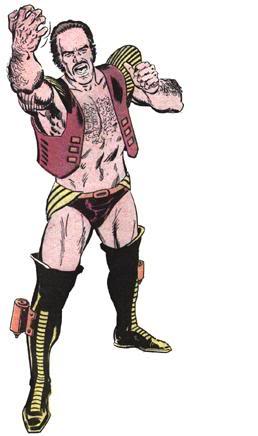 Note the leather Speedo, the always-repulsive male thigh-boots, open vest with no shirt (the better to gaze upon the hirsute majesty of his manscape), and of course the Bert Reynolds Memorial Mustache, without which no homage to macho would be complete. Yes, this looks like your worst "My Dad dressed up for Halloween" nightmare, because it is. At least, if you're Sean Connery's kid, because this wretched bit of sartorial madness originated in his movie "Zardoz":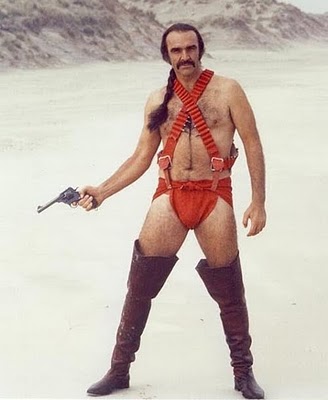 And here you see the reality that as bad as something might look as an illustration, reality can be far, far worse. In no universe, ever, have gun belt suspenders holding up orange diapers over thigh-high leather boots been a Good Look for a man. Like, ever. Cap it off with a receding hairline and long pony tail combo and you, my friend, have achieved epic levels of bad costuming.
So on Halloween, please, I beg you, do NOT go out dressed like this. Or on any other date. Or planet.