Many thanks to everyone who took the time to enter our Mother's Day Pop Quiz! We had some fun entries that really gave me a chuckle. Without further ado, here they are:
I had a hard time picking a winner. I liked LogosGal's book cover very much, but I thought it was more super-girlfriend related than super-mom. Similarly, I liked Myro's and LoneWolf6155's jokes a LOT but I had a hard time working through the arrangement of the word balloons. JohnnyGear's Rose Galaxy was sweet, but didn't quite have the visual impact I was hoping for. Mad Doctor's entry, like Skybandit's, was great but a little dark. Cliff's was probably the most cohesive and "Mother's Day" like of all, but I got more "Princess" than "Super" from it.
I liked Atomic Punk's entry, especially the pink bow on the rocket launcher and the funky background. The concept of both Shiboreth's and Gene's was good but I didn't feel like I'd "get" them from just the images. Herr D's was cute but it looked more like they were all just dudes standing around rather than a basket of severed heads.
Kytana's was adorable, particularly the combination of the mask with the PJs.
ManiacMick's entry was solid but the perspective on the book bothered me a little, and I felt like too much space was taken up with the table.
Which sort of left me with NHA247's: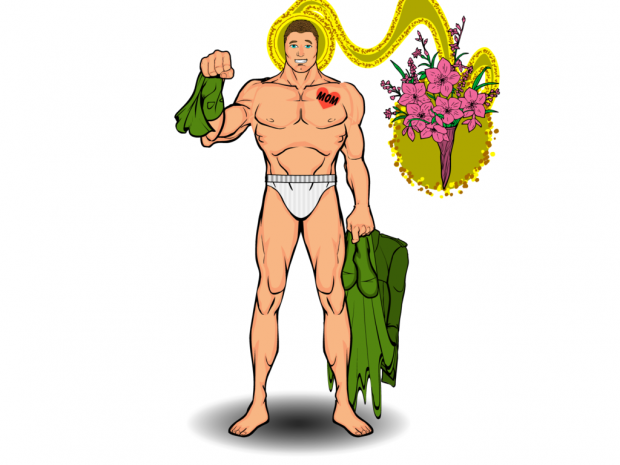 It was thiiiis close to falling into the Gene/Shiboreth category of not quite getting it purely from the visual, but I thought the floating flowers gave it an edge. And I laughed at the idea of a super-powered guy giving his mom dirty laundry to do on Mother's Day.
So congratulations to NHA247, and another sincere thanks to everyone who participated.
Happy Mother's Day everyone!