In 1959, the fashion world was assaulted by the revolutionary pants concept known simply as "Sansabelt", meaning slacks with elastic waistbands sewn in so fatties like me could wear pants without a belt. I can only think that Azrael, who took over when Batman's back was broken, is the heir to the vast Sansabelt fortune, because that's the only way I can make any sort of sense out of this outfit: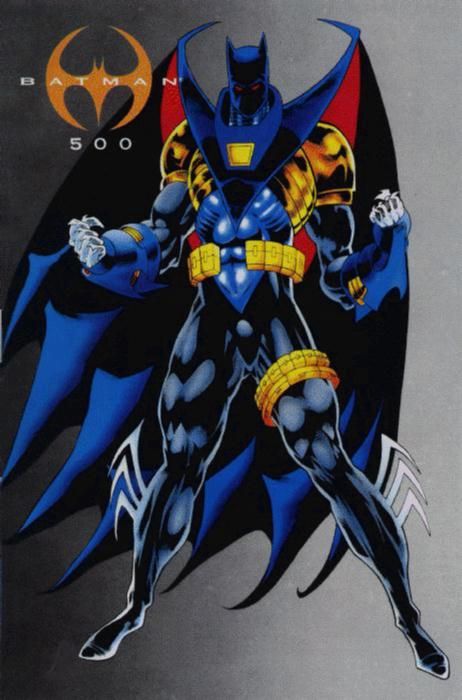 Clearly, he not only has a belt, he has a huge yellow pouchy belt full of pouchy pouchiness. How he ever gets anything out of the pouch in the small of his back, I don't know.
So this isn't your classic Sansabelt treatment, but one simple fact, I believe, puts it in that realm -- there's no buckle. Not only no buckle, but literally nothing but his rock-hard abs holding that sucker in place.
That raises the deep philosophical question of whether a belt is a belt if there's no buckle. How much of the requisite belt components can be missing before something stops being a belt? And how many divinely inspired Bat agents of death can dress up in ridiculous outfits without killing sales?
These are the kinds of issues that keep us deep thinking comics writers up at night, folks.
Now, I realize that the more literal of you will say something like "Duh, Jeff, the belt is bolted onto the armor." Which would cause me to reply, "Why would any sane person do that?" What's the point of a belt if not to hold your pants up? Were the thigh pouches not sufficient for holding the keys to the Batmobile?
Look, I get that this was a one-off kind of a thing, a temporary substitute Batman for a specific kind of character and time. But this whole thing is just silly looking. From the massive neck armor to the ridiculous wristless gloves to the hippy-dippy floppy-poppy leg streamers to the massive shoulder armor leading down to a completely unprotected crotch, this ensemble is nothing more than an ode to the excesses of the Nineties in super hero costume design. "Make it armored! And EXTREME! With pointy bits and pouches!!"
Ugh. I bet Bruce Wayne healed his back just so he could have the privilege of getting back into a decent costume and kicking this guy's ass for spoiling a hitherto uninterrupted string of sartorial success.
(Image and character ©DC Comics, Inc.)