We got some great submissions for the centennial edition of the Caption Contest, so a hearty THANK YOU to everyone who entered! I got some good laughs out of them, starting the week out on a perfect note.
With great pleasure, therefore, I present your Finalists, the ones I thought were the funniest or cleverest:
Joel: "Oh wait, it's not? Sorry, could someone please tell me how I can get to Tokyo, sorry."
nakiato: This is the last time i travel though Arizona without my birth certificate !
ajw: Extinct my ass!
Mr.Chris: "Seriously. I just ate a blowpop, what color is my tongue?"
HairWhip: "I'm the Hunchback of NotreDIE!!!!!!!!!!"
Ian Thomas Healy: "I asked my doctor about Celebrex, and look at me now!"
X-stacy: You can't shoot me! I'm endangered!
Malfar: Everybody stand still, I dropped a lens!
Hunter-Hunted: "I put the 'DIe' in 'DInosaur'!"
Hunter-Hunted: "Opposable thumbs, Baby! Now how do you like that??"
Patriot_Missile: Fin! Fang! BOOOOM!!
Knighthawk: I'm a Tyrannosaurs Rex, I CAN'T put my hands on top of my head!
frankie: "Vait! Don't shoot. It's me, Hitler."
JWTx: Say hello to my little arms!
Those are all strong contenders, but like Highlander there can be only one. And so without chopping off anyone's head with a samurai sword, I hereby choose as your overall winner ... Knighthawk!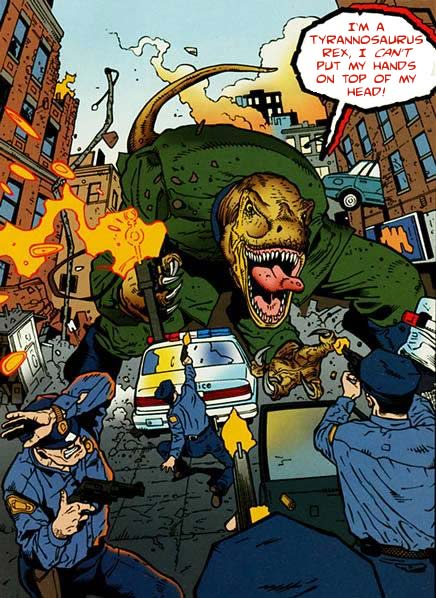 As the centennial winner, Knighthawk will receive a custom black and white character sketch of one of their creations. Congratulations!