Many thanks to everyone who entered Caption Contest 98! There were a ton of really funny entries this week, as you can see from the large number of Finalists. Maybe it was how silly the panel was: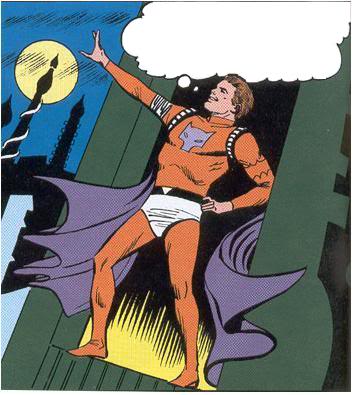 Without further ado, here are the aforementioned Finalists!
eric ross burton: hmmmm ... something feels off did i put my underwear on before or after my leotard this time
Patrick: "Grim crusader of the night? Nailed it!"
Gargoyle323: "Talk to the hand!"
Mr.MikeK: I'm so glad I hired Rainbow Boy to make my suit!
Vaadren: I'm a little teapot, short and stout. Here is my handle, here is my spout.
Frevoli: My flight powers are bound to start working now
Bud: Look out villains, best not mess with me. I'm positively … FOXY!
nakiato: the moon is so close i could almost touch it with my tiny hands.
Myro: "Look who we've got our Hanes on now!"
Myro: "Nothing comes between me and my BVDs. Except for my costume."
Whit: I don't care if the name "Captain Underpants" is taken!
The Atomic Punk: Soak it in, Russian mail-order brides. Daddy's here.
The The Atomic Punk: Hey, Alpha Centauri! I'm crushing your head!
von Bek: If only I could find my glasses. Now where's that light switch… Why's it got windy?
X-stacy: I AM Victoria's Secret.
Danny Beaty: Maybe this isn't the best pose for brooding.
Phew! You can see I'd have a tough time choosing just one winner, but luckily for you I gutted up. Which means your winner is ... Myro!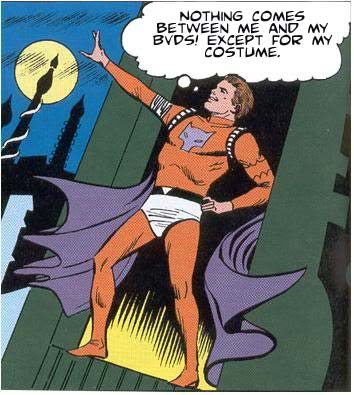 Shockingly (well, at least to me), this is Myro's first win outside of a Pop Quiz despite his excellent character design skills and good humor. It's a weird thing, this subjective judging ...
Anyway, congratulations to him and to all of our Finalists, and again, a hearty thanks to all the great entries.