I've just added the following items to HeroMachine 3: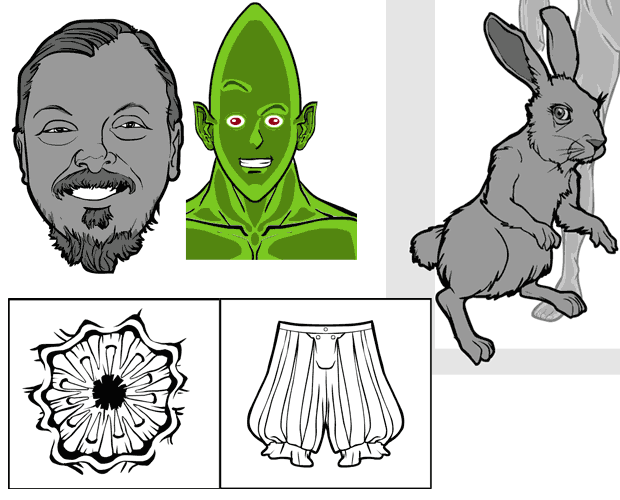 From top-left to bottom-right, they are:
Brons missed out on his two prizes for winning Character Contests 21 and 23 (they ended up getting forfeited to the "Reprize Patrol"). We finally managed to get in touch and I have added his portrait to Head-Winners.
dblade requested a conehead (a la The Impossible Man), which is now in Head-Aliens for winning Character Contest 58. dblade, if you wanted just the top half and not the chin, let me know and I can make that happen.
Kytana wanted an "Alice in Wonderland" style hare for winning Character Contest 59, now available in Companions-Standard.
The bottom left item is a gift from dblade, who drew up the nifty leech mouth for "those of us who want to suck". Ha!
Finally, Doomed Pixel wanted a pair of Renaissance pants as his prize for being the co-winner of Character Contest 38.
Thanks to all those folks for their great ideas and particularly to dblade for drawing a custom item! Let me know if you have any problems loading these.