I had a tough time deciding the Caption Contest 67 winner, there were several that I thought were really funny. To wit, these ones!
Ian: Aaaaah! Butt-palm!
Rick: Give me an…A!
AbecedariusRex: "Is that a Brakash in your pocket or are you just happy to see me."
Runt82: Noooooo! It's Roid-Rage Willie Nelson!
Rob W: No, I will NOT tell you where I hid your steroids!
Deadpool42: FOR THE LAST TIME I DONT WANNA HERE THE GOOD NEWS!!
Frankie: "Oh, no! It's the Alphabet Brigade. And this is only the beginning."
After much hemming and a little hawing, I finally settled on Your Winner, The Inestimable Ian!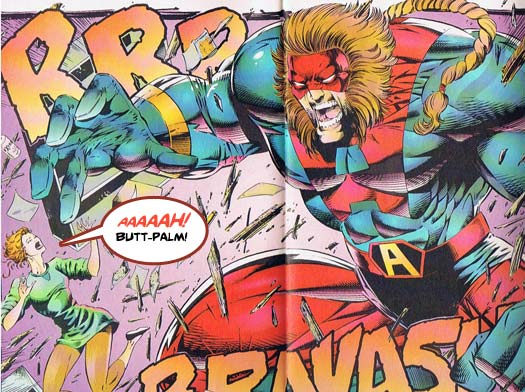 Thanks to everyone for participating, and to the Honorable Mentions above especially for giving me an extra chuckle or two. Well done!
Ian wins an item of his choice, or a portrait of himself, to appear in the final HeroMachine 3 product. Congratulations once again Ian!