Thanks to everyone who entered "Caption" Contest 64. To review, this one was a bit different, you had to do what I do with the Daily Random Panels and come up with a funny headline for the panel in question: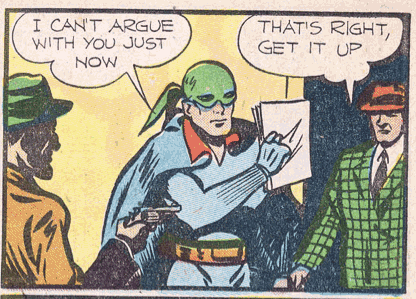 The following Honorable Mentions did it particularly well:
Danny Beaty: How can I when you're pointing a loaded gun at me!
Tim: Three little words to make a conversation awkward.
Hammerknight: You know the Economy is bad when heroes read for parts in porn movies.
the creator: why employers cancel casual fridays
Bael: I've heard of shotgun weddings, but this is getting ridiculous.
PhoenixTalion: Meanwhile, at the Corleone Sperm Bank…
Montana Player: Inner monolouges gone wrong.
Which leaves our winner, who I think not only nailed the entire concept of what the Headlines are supposed to be, and not only perfectly captured the essence of this incredibly random panel, but also made me laugh right out loud ...
TheNate: Study: 99 Percent of Superheroes Not Bullet-Proof
Well done, Nate and all the Honorable Mentions! He'll get to choose either a portrait of himself or any item he likes for inclusion in the final HeroMachine 3 program.
We'll have a normal Character Contest coming up in a bit. Thanks again to everyone who took the time to enter!