I've just published the "Animals" set of items for the "Head" slot in the HeroMachine 3 Alpha. I started out working on Headgear, but the first two items in it were animal heads and I realized that unlike in HM2, I now had an actual "Head" slot that could be filled with items. So now you can replace the default human head with animal ones. Down the road I may take the advice of someone in comments, and make some "blank" animal heads, outlines of feline and reptilian heads and such that can be filled with facial features just like the human ones. But for now this is just a replacement of the old HM2.x full head-covering stuff.
Here's a sample::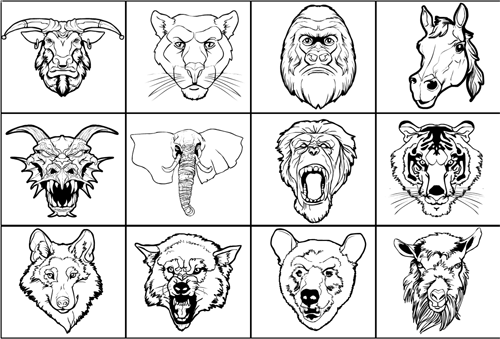 By way of comparison, here's a sample of the 2.x Animal Headgear items: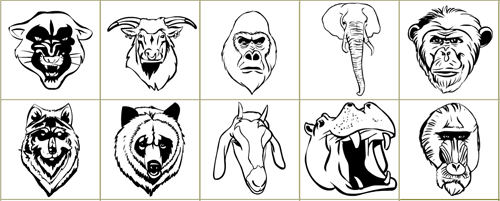 In general I tried to make the heads more realistic and more dynamic. Thus you have the screaming chimp instead of the placid looking fellow. I included suggestions from the comments a few days ago as well (notably the horse and dragon heads, for instance), but if you've always wanted some sort of human animal hybrid and don't see it in the complete set, let me know.
Also, note that you can use other items like the various horns from the "Ears" slot to add to these, making your own version. For instance, the more menacing male goat head I put in to replace the old friendly she-goat lacks horns. But you can add a couple from the Ears to complete it. Or you can add some of the animal ears if, for some reason, you wanted a bunny-goat beast. You get the idea.
Next, it's back to HeadgearStandard, and I'm still working off your list in the comments to that post.