I am happy to announce that the Three-Peat Club has a new member: Steve!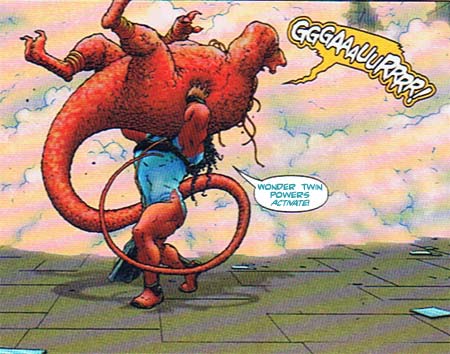 I have to say, the whole idea of activating super-powers through a head-to-butt contact is ... unique. And funny. There were a ton of great entries this week, so forgive me for the long list of Honorable Mentions. Maybe this "no limit on the number of entries" thing is a good idea after all ... Anyway, here are the especially funny entries, well done everyone!
Damien: "Carry me, I'm scared of the dust!" How do you get me to believe this crap?
Runt82: Why couldn't I have been partnered with Julianne Hough?
Ballin' Boy: Let's see colon… pancreas… Webster…ah here we go prostate.
Frankie: "Quiet you. You're extinct."
Frankie: "Mmmmm. Nothing like freshly squeezed dino juice."
Fishpants: Hang on, I have another call.
Fishpants: NOW can we teach evolution, y'all?
Fishpants Says: Sorry we're late. Where does Noah want these dinosaurs and unicorns?
Cory: OOOH, a penny!
HalLoweEn JacK: …and now my head's stuck in a dinosaur. Mondays *sigh*.
HalLoweEn JacK: KITTY!
HalLoweEn JacK: We're almost at the hospital, but YOU'RE explaining how it got stuck in there!
Lyogi: Next time, I'll ask what the pregnancy craving is for, before I agree to get it.
StrangezThingez: I feel like I'm losing my head doing this!
The Imp: It plumps when you cook it!
Syzyx: You're going to the vet whether you like it or not!
Jester: Voted most likely to get my head stuck in the back of a dinosaur… what are the odds?
CARR10N: OMG!! I cant use that as an eye hole.
JonnyDemon: Damn, this zit is out of control!
Blue Blazer: For the last time, I'm NOT Little Johnny Paper!
Danny Beaty: I'm really "dragon ass" today.
Special bonus credit (not currently redeemable for anything) goes to Runt82 for giving me an excuse to do a Google Image search for Julianne Hough. Hubba hubba. And to Blue Blazer for the difficult-to-achieve "Peter Paul and Mary" shout-out. Well done, sir!
Steve wins another black and white custom illustration of whatever he likes (within reason) to go with the one he's already got and the one I still owe him. That's three times in six weeks for the Stevester, which is darned impressive.
Thanks again to everyone who entered, and I hope you had as much fun reading all the entries as I did!