Congratulations (and a custom illustration of whatever he likes) go to our winner for Caption Contest 48 -- Runt82!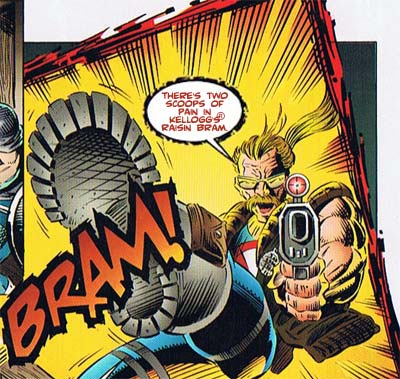 I believe this is Runt82's third win, putting him tied with xStacy at the top of the all-time leaderboard.* This week's contest had a lot of great entries, including the following Honorable Mentions:
Xstacy: Ya gotta stomp these nonsense words before they breed.
Cavalier: "Don't mock the boot purse!"
DJ: BRAM'S ICE CREAM! BUY SOME OR GET SHOT!
Frankie: "What? !MARB…?? What does that mean?"
Danny Beaty: MY NAME AIN'T "BRAM"!
miggo: POW! POW! POW!
Blue Blazer: My gun must've been made in China.
ninjast4r: "Where's your bathroom? This BRAM muffin went right through me!!!"
I almost went with Cavalier's "boot purse" comment, mostly because I hope that "boot purse" becomes a common term, I think it's brilliant. I liked how a lot of these played with the whole idea of this big word flashing up in the panel as if the character could see it, that was downright post-modern.
In any event, many thanks to all the great entries, I appreciate your creativity and willingness to make with the funny! I'll have the next panel up in a bit, so be sure to check back for your chance to get in on some of Runt82's custom illustration goodness.
*In case you're curious, that list includes: xStacy (3 wins); Runt82 (3); Rob Rogers (2); Whit (2); Rick (2); Mark (2); and DJ (2). Edited to add HalLoweEn JacK (2).